Winter doesn't sound too bad right about now.
Tom Kern, president and CEO of the Lawrence Chamber of Commerce, announced Thursday that he's resigning his post in late-September to take a similar position in Colorado with the Steamboat Springs Chamber Resort Association.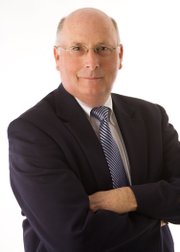 "This was not an easy decision for us to make," Kern said of him and his wife, Rosie. "But we're both really active winter sports enthusiasts. We actually like the winter. That was a compelling issue for us."
Kern has been a regular visitor to Steamboat Springs since 1973, and until a few years ago owned a condominium in the community.
"I wasn't out looking for a job," Kern said. "This was an opportunity given to me by an acquaintance I know in Steamboat."
Kern, 60, has been the top executive at the Lawrence Chamber of Commerce for the past three years. He came to Lawrence from Virginia after serving as the chief operating officer for the Fairfax County Chamber of Commerce in suburban Washington, D.C. He has about 20 years of chamber experience in Virginia and Ohio, in addition to having served as a city manager and former county commissioner in his native Michigan.
"He is a terrific leader," said Matt Hoy, a chamber board member and the immediate past chair of the chamber. "He has great organizational skills, great personal skills, a strong financial acumen, and a depth of experience in so many areas."
Board Chair Cindy Yulich also praised Kern and said that she would bring together the chamber's board of directors next week to begin crafting a plan to name an interim leader and develop the process for finding a replacement.
"This all was very much a surprise to us," Yulich said.

Kern's last day will be Sept. 23. Lawrence City Commissioner Mike Dever was on the search committee that recommended Kern three years ago. He said the next leader of the chamber — which serves as the city's lead economic development recruiter — will have to possess many traits.
"I think we need to find somebody who understands the way our community operates both politically and technically," Dever said. "I think we need to find somebody who is going to be ready to run right out of the gates. We don't have any time to lose. We don't have any extra breathing room on our economic development efforts."
During his tenure, Kern said he believes the community has made progress in increasing the bioscience component of its economy, particularly with the creation of a new West Campus incubator facility and Deciphera Pharmaceuticals' expanded presence in Downtown Lawrence.
But Kern said he hopes that the community does continue to work on compromising and building consensus on key issues.
"One of the things I love about Lawrence is how passionate the people are," Kern said. "But sometimes one of the things I wonder about is how passionate the people are. It has a good side and a bad side to it."
Yulich said she believed Kern was making progress in helping foster conversations between groups that sometimes have competing interests. She said she hopes the next chamber leader will continue in that direction.
"I think he challenged us to think a little bit differently," Yulich said. "I don't think he accomplished everything he wanted to in that area. I think he found us challenging, quite frankly.
"But I think it is going to be very important as we look to the next decade that we find a better way as a community to work together collaboratively."
Kern is the third person to hold the top spot at the Lawrence chamber since 1999, when longtime chamber executive Gary Toebben left the organization.
In Steamboat Springs, Kern will be the top chamber executive in a town of about 10,000 residents, although it often swells to several times that size because of a vibrant tourism industry.
Copyright 2018 The Lawrence Journal-World. All rights reserved. This material may not be published, broadcast, rewritten or redistributed. We strive to uphold our values for every story published.