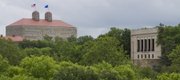 Subscribe to the email edition of Heard on the Hill and we'll deliver you the latest KU news and notes every weekday at noon.
Your daily dose of news, notes and links from around Kansas University.
• As students return to classes next August, many will be looking for part-time jobs to supplement their income.
The University Career Center sponsors an annual part-time jobs fair for students, set from 9 a.m. to 4 p.m. Aug. 22 on the fourth floor of the Kansas Union.
Businesses can register at KUCareerHawk.com for $75.
About 400 to 500 students typically attend the fair each year, the Career Center reports.
The Career Center will also be sending students an email reminder in August about the fair for the people (like me) who would read something like this, then promptly forget about it.
• I'm scheduled for an interview with Chris Redman, the new president of Haskell Indian Nations University next week.
And I'd be curious to know if anyone had any questions they'd like me to ask him. I do, of course, have my own set of ideas and areas I'd like to discuss with him.
It's been a bit of a tumultuous situation there, as they've been through several different acting leaders (including Redman) after Linda Sue Warner left in September 2009 for a detail off campus, and eventually was reassigned to another position in the Bureau of Indian Education.
If you've got some topics you'd like me to get into with the new fellow, please let me know.
• Always on the lookout for up-and-comers in KU's ranks, I spotted the name of David J. Cook on a list of 50 faculty members and administrators on the list of new American Council on Education fellows, "a program known for producing future provosts and presidents," according to Inside Higher Ed.
Cook is an associate professor in health policy and management in the School of Medicine and is the executive director of the Midwest Cancer Alliance at the KU Cancer Center, in addition to serving as the associate vice chancellor for outreach at KU Medical Center.
A mouthful, but an impressive list nonetheless.
• I'm all about being honest, so I'm not afraid to tell you I'm fresh out of creative ways to ask for tips, but please keep on sending them to ahyland@ljworld.com anyway.
Copyright 2018 The Lawrence Journal-World. All rights reserved. This material may not be published, broadcast, rewritten or redistributed. We strive to uphold our values for every story published.