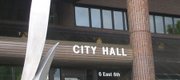 Subscribe to the email edition of Town Talk and we'll deliver you the latest city news and notes every weekday at noon.
News and notes from around town:
• We've talked about Lawrence gasoline prices before. I've wondered if one reason gas prices have been higher in Lawrence than elsewhere is because there are some areas of town where it is just not a very competitive market. Take Clinton Parkway for example. Between Wakarusa and Iowa Street, there are no gas stations on Clinton Parkway. Soon, that may change. Hy-Vee is looking to get into the gasoline business on that stretch of road, but not at its store at Clinton Parkway and Kasold Drive. Instead, the grocer has filed plans to build a convenience store at the southwest corner of Clinton Parkway and Crossgate Drive. Plans filed at Clinton Parkway call for 10 gasoline stalls and a multi-bay car wash on the site. The site is part of the Inverness Park development, which stretches between Crossgate and Inverness. The area has been home to a lot of apartment development, and a lot of concern from nearby single-family property owners who say the area is becoming overbuilt with apartments. The city in the past has resisted retail development at that corner (Walgreens once was interested in it), instead saying it would be better suited for office development or more apartments. But city planners have been looking at the area again, and retail seems like more of an option now.
In fact, planning commissioners at their Wednesday evening meeting will consider a new land use plan for the 300-acre Inverness Park area. The draft plan call for "neighborhood commercial" development along Clinton Parkway at both Inverness Drive and Crossgate Drive. The Inverness corner could support an even larger development than what is being proposed at Crossgate. It is an 11-acre site, and at that size it could turn into something similar to the Hy-Vee center at Kasold Drive and Clinton Parkway, which is 13 acres, or the Orchards development at Bob Billings and Kasold which is 9 acres. In other words there is room for a major tenant and multiple shops on that site. It is clear neighbors don't want more apartments, but it will be interesting to see if they want significant commercial development. This group of neighbors once proposed that the vacant area ought to become a park, which doesn't seem very likely. But hey, the area is called Inverness Park.
Planners will consider the area plan on Wednesday, but they won't consider the Hy-Vee convenience store proposal until at least September. City commissioners then will get in on the action.
•UPDATE: The Lawrence-Douglas County Planning Department announced Tuesday afternoon that the firing range issue has been deferred from tomorrow's meeting. It likely will be heard by the planning commission in September.
Talking about concern from neighbors, the local chapter of the Fraternal Order of Police is facing opposition from some residents who live near the organization's longtime shooting range at 768 E 661 Diagonal Road in rural Douglas County. Planning commissioners are tentatively scheduled to hear a conditional-use permit request that would allow that 40-year-old range to continue in operation. But this long-simmering issue has a history of getting delayed. But what is clear is that planners are proposing a host of regulations for the site. They include:
Limiting hours from 8 a.m. to 8 p.m. Monday through Thursday; 8 a.m. to 5 p.m. on Friday and 10 a.m. to 6 p.m. on Saturdays and Sundays.
Requiring the organization to take annual noise measurements while firing is underway at the site. Noise levels shouldn't exceed certain levels at the site, planners say.
No trespassing signs that also identify the property as a firing range will need to be posted every 100 feet around the perimeter of the range.
Military training on the site shall be prohibited, except for military weapons that are likely to be used by police agencies. Neighbors previously had been concerned about the use of helicopters and ordnance.
Soil levels will be measured on an annual basis to ensure they aren't becoming polluted by lead from the bullets fired at the site. The FOP will have to undertake a lead reclamation project every 100,000 rounds or every seven years. That requirement also means that the range will have to keep documents about the number of rounds fired, the type of ammunition used and the type of firearm used.
• On Monday, we told you about a new city audit related to streets. Specifically, it looks at whether how we build streets today is better than how we built streets back in the 1980s and 1990s. The audit says, yes, although several LJWorld commenters don't seem to agree.
But what about how we built streets back in the 1870s? City Auditor Michael Eglinski did run across an interesting bit of Lawrence trivia while he was compiling information for his latest audit. He found that back in the 1870s Lawrence was building streets out of wood. In particular East Eighth Street from Massachusetts to New Hampshire and West Ninth from Massachusetts to Vermont were built using wooden blocks. The idea was similar to using bricks, but instead the bricks were made from wood. Apparently the idea was somewhat popular back in the late 19th Century because horseshoes and steel wheels produced much less noise on wooden streets than they did on brick streets. According to an article in Forest History Today (really), there were some problems. Those included the fact that "the wood absorbed horse urine and excrement and sweated putrid fluid in hot weather." But hey, they were quiet. Also rot could be an issue, but maybe not as much as you would think. The lumber was soaked in creosote, which helped prevent rot. But as folks during the great Chicago fire found out, it also burned pretty well too. If the streets were actually on fire, that might slow response times down. There are still some wooden block streets in existence in the United States. (Lawrence's data didn't indicate when ours were torn out.) One of the more prominent wooden block streets is in Cleveland — Hessler Court — just outside Case Western Reserve University.
• Speaking of horse urine and excrement … nah, just kidding. I wanted to see if you were still awake.
Copyright 2018 The Lawrence Journal-World. All rights reserved. This material may not be published, broadcast, rewritten or redistributed. We strive to uphold our values for every story published.