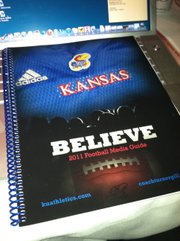 KU media guide revealed
Last year's media guide featured a smiling Turner Gill with his arms folded and a few players kneeling around him.
This year's guide, revealed for the first time Monday at Big 12 media days in Dallas, was a little more nondescript. Instead of using faces, the KU program has its "Believe" slogan as the focal point. The word, printed in bold, white block letters across the bottom of the guide, is set on top of a silhouette of KU players huddled together and underneath a close-up of the "Kansas" as well as the Jayhawk and the Adidas logo on the blue, mesh uniforms.
As for the back, it still has the mesh and the logos, but it also features the word "Belong" and a game-by-game look at KU's 2011 schedule.
Berglund not pictured
It will take a while to flip through the entire media guide to pull out all of the best parts, but one interesting element that jumped out right away was the absence of Berglund's photo.
KU officials said in June that Berglund had been in town to have his photograph taken for the media guide.
However, no such photo appears. Berglund's entry is complete other than the missing picture.
Harris to Broncos?
Former KU defensive back Chris Harris is expected to sign a free-agent deal with the Denver Broncos Tuesday in Denver.
Harris, a four-year starter at Kansas who was one of the last contributing members of KU's Orange Bowl championship team, has been forced to wait out the NFL lockout to get a shot with an NFL team as an undrafted free agent. During normal years, players like Harris usually sign within a couple of days of the end of the NFL Draft in April. The lockout, which was lifted Monday, pushed back that timeline more than three months.
Although he still has a long way to go before earning a spot on the Broncos' roster, scouts have said good things about Harris, who had an excellent showing at KU's pro day in March.
He's expected to have a legitimate shot to compete for a job in Denver, most likely as a nickel back or safety.
Copyright 2018 The Lawrence Journal-World. All rights reserved. This material may not be published, broadcast, rewritten or redistributed. We strive to uphold our values for every story published.