Photo Gallery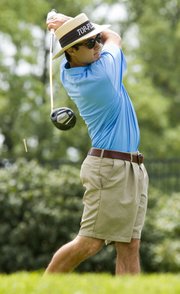 2011 LAGA city tournament Day 2
LAGA City Tournament
Sunday at Lawrence Country Club
Women
Schuh, Rose 83-86 — 169
Gebhards, Lou Ann 95-104 — 199
Eichhorn, Quillen 101-115 — 216
Super Senior First Flight
Smith, Darrel 82-88 — 170
Van Leer, Tim 87-93 — 180
Hertling, Mike 92-92 — 184
Lerner, David 86-101 — 187
Draskovich, Rich 100-112 — 212
Super Senior Championship Flight
Smith, Galen 75-77 — 152
Davis, Chris 80-80 — 160
Hagan, Jim 84-81 — 165
Tayor, Tom 79-91 — 170
Novacek, Dennis 94-80 — 174
Whitenight, Pete 93-94 — 187
Brecheisen, Ted 93-106 — 199
Senior Second Flight
Neutel, J.R. 77-87 — 164
Greenamyre, David 82-84 — 166
Morris, Tim 89-94 — 183
Stohs, Duane 87-101 — 188
Gebhards, Randy 86-102 — 188
Vernberg, Eric 97-104 — 201
Senior First Flight
Edwards, Brian 80-84 — 164
Schnitker, Tim 81-85 — 166
Anderson, Curt 89-83 — 172
Beaton, Mike 83-92 — 175
Patt, William 89-89 — 178
Ross, John 89-95 — 184
Wagner, Bill 98-87 — 185
Senior Championship Flight
Reichert, Van 70-74 — 144
Wilson, Doug 74-79 — 153
Stansell, Jamie 72-84 — 156
Gisel, Dennis 74-82 — 156
Davison, David 73-84 — 157
Emerson, John 74-86 — 160
Platz, Stewart 81-81 — 162
Open Second Flight
Monteau, Maurice 78-88 — 166
Urban, Brandon 87-82 — 169
Keegan, Tom 81-93 — 174
Frank, Darrell 82-93 — 175
Martin, Mike 90-89 — 179
Eichhorn, Grant 86-106 — 192
Farve, Michael 95-99 — 194
Morris, Jacob 92-105 — 197
Frink, Derek 103-101 — 204
Scarlett, Chad 92-121 — 213
Ware, Anthony 102-113 — 215
Open First Flight
Morgan, Steve 77-79 — 156
Storer, Kellen 80-87 — 167
Gregory, Troy 86-82 — 168
Flynn, John 86-88 — 174
Scheibler, Ty 88-89 — 177
Barkley, Eric 83-97 — 180
Tamerius, Glenn 84-100 — 184
Scheibler, Preston 82-106 — 188
Somers, Marc 95-94 — 189
Open Championship Flight
Wilson, Spencer 70-75 — 145
Sharp, Greg 78-70 — 148
Gollier, Bo 79-73 — 152
Rainbolt, Tom 78-75 — 153
Rack, Michael 76-78 — 154
Scott, Spencer 76-81 — 157
Junge, Chuck 78-80 — 158
McCauley, Seth 78-82 — 160
Randall, Steve 78-82 — 160
Wartman, Scott 75-85 — 160
Schmidt, Evan 82-80 — 162
Dick, Mason 80-82 — 162
Graves, Ryan 81-90 — 171
Bellemere, Matt 90-85 — 175
Carmean, Sam 97-101 — 198
Patel, Jugal 84-wd
Canedo, Tony 79-wd
A vicious, knee-buckling fist pump wasn't part of Spencer Wilson's celebration plan.
Holding a five-shot lead going into the final round of the Lawrence Amateur Golf Association city tournament at Lawrence Country Club, Wilson wanted to play conservatively and skip any drama down the backstretch.
But Wilson played the first eight holes in 4-over par, capping the slow start with a double bogey at No. 8.
He also was hearing that Greg Sharp, an LCC member, was making birdies.
Wilson did enough on the final 10 holes to hold on for a 3-shot victory in the open championship flight, but it didn't come easily.
His fist pump at No. 18 came after he holed a 15-foot downhill par putt from just off the green.
"That was more of a relief fist pump, because I was making it as difficult as I could, that's for sure," said Wilson, a 27-year-old assistant manager at Golf USA.
Wilson (70-75—145) didn't know Sharp's score — a two-day total of 148, with a even-par 70 Sunday — when he was coming up No. 18, but he figured he had to make at least bogey on the final hole to win.
A double bogey on No. 18 still would've given Wilson the title, but holing the fast downhill putt sealed the victory.
Afterward, Wilson said the tricky greens gave him the most trouble.
"They are so fast and they roll so well," Wilson said. "It just took me until about 18 before I finally got the speed of the greens down."
The victory officially ends Conrad Roberts' five-year reign of the tournament.
Wilson said he was thankful Roberts and talented golfer Tyler Cummins played in the Kansas Amateur this week and attended a friend's wedding Sunday instead of playing in the tournament.
"Without him, none of this could've been possible," Wilson said, smiling.
Even though Wilson secured a comfortable three-shot victory, it was one of the most dramatic finishes of the day.
In all nine of the flights, the leaders after the first round at Eagle Bend were able to hold off the field and secure titles Sunday.
Galen Smith (75-77—152) won the super senior championship flight by eight shots, and Van Reichert (70-74 — 144) bested the senior championship field by nine.
After slogging to a 45 on the front nine, Rose Schuh shot a 41 on the back to secure a 30-shot victory in the women's field.
The other winners: Darrel Smith, super senior first flight, 170; J.R. Neutel, senior second flight, 164; Brian Edwards, senior first flight, 164; Maurice Monteau, open second flight, 166; and Steve Morgan, open first flight, 156.
LAGA tournament organizer David Lerner was impressed with how well the golfers scored in the heat wave that continues to hit Lawrence. He also said he thought LCC was a great host for the event and that he hopes that the city tournament continues to develop.
Lerner even threw around the idea of starting the tournament with two days of stroke play and then moving to match play. But that would require more players in each flight or a consolidation of a couple of flights.
Copyright 2018 The Lawrence Journal-World. All rights reserved. This material may not be published, broadcast, rewritten or redistributed. We strive to uphold our values for every story published.