In the heat of the summer, any extra piece of clothing or jewelry is just too much. Being sticky and hot makes it even harder to look presentable, so I'm thrilled that one of this fall's major fashion trends focuses on minimalism. Keep reading for details on a hot fall jewelry trend (that also happens to be perfect and practical right now).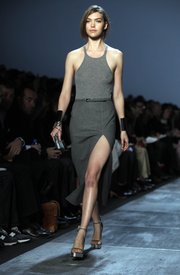 Metal jewelry:
Metal jewelry was popular all over fall runways. Its versatility is due in part to its neutral color — silver, bronze, copper and gold. These hues are good accompaniments to almost any outfit, and luckily, all of these metals are in-style choices right now. When you look for metal jewelry, pick out pieces that are simple and smooth, not carved, decorated or set with any stones. If your metal jewelry does have engravings, the marks should be simple to ensure a clean and modern aesthetic overall.
Style specifics:
Metal chokers and thick metal bracelets or cuffs are the trendiest options for fall 2011. Picking out a metal choker can be a difficult task. The metal chokers popular this fall should not lay flat against your neck; instead, your choker ought to sit on the edge, upright around your neck (it is similar to the thick neck rings worn by ancient warriors).
In general, pair your solid metal jewelry with contrasting apparel. As the fall rolls around, we will see more and more of a 1970s influence on clothing shapes and cuts in stores. A metal choker perfectly juxtaposes a loose tunic top and wide-leg jeans. A choker also looks great with long dresses and skirts.
If you aren't sure you like the idea of a thick metal choker, purchase matching metal bracelets instead. Do make sure to get a matching set, and wear one bracelet on each wrist for the hippest look (the double-cuff look is a huge celebrity trend right now).
When the weather turns even colder, double cuffs will be simple, glamorous accessories, too. Update your plush coats and sweaters with clean, cool metal jewelry pieces — the simplicity will be a subtle but welcome addition to your outfit.
Check out the metal jewelry worn by models at Michael Kors Fall 2011. I love the way the jewelry has been styled in this collection — it is paired with sharper, fitted pants and skirts, which are great, alternative ways to wear this trend. Double cuffs were also used in Celine's Fall 2011 RTW Collection. And in the 1930s, double cuffs were one of Coco Chanel's signature accessories.
Copyright 2018 The Lawrence Journal-World. All rights reserved. This material may not be published, broadcast, rewritten or redistributed. We strive to uphold our values for every story published.