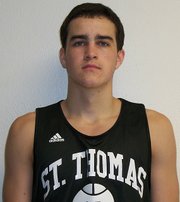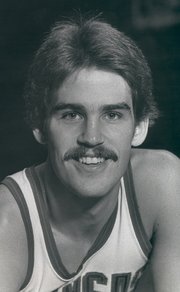 Christian Sanders began to draw the attention of major-college basketball recruiters in March when the 6-foot-3, 180-pound junior combo guard helped propel his Houston St. Thomas High team to a Texas state championship.
The pursuit of Sanders, son of former Kansas University guard Brad Sanders, intensified in early June.
That's when Christian won the three-point shooting contest — and made the all-star team — at the Under Armour Best of the Best camp in Atlanta.
In a short span he has received offers from Stanford, Colorado, Texas, Maryland, Harvard and Oklahoma State and is also being recruited by KU and others.
"It's been a learning experience for the family. It's been enjoyable in many ways, but also a pretty serious process," former Leavenworth High standout Brad Sanders said Sunday in a phone conversation, indicating recruiting has changed a lot since his years (1975-79) at KU.
"It's clearly a business. It can be a bit overwhelming not only for a 17-, 18-year-old but an entire family."
Christian Sanders, who plans to make some official visits this fall before selecting a school, is currently playing for the Houston Defenders at an AAU tournament in Florida.
"If you can imagine these kids playing during July and the out-of-bounds is lined with head coaches from all over the country ... that (short recruiting) period makes a difference where you go and don't go. It's very, very nerve-wracking, certainly for dads and moms but also players," Brad said.
Christian, whose mom, dad and older brother attended Kansas, made an unofficial visit to KU on June 30, indicating at the time it was a "great" visit and he was looking forward to KU's coaches evaluating him this summer.
"From mom and dad's perspective, we are Jayhawkers so we've got a loyalty for KU, but this is Christian's decision," Brad said, indicating KU's staff is watching Christian seriously this summer for the first time.
"Christian moved away from (Wichita) Kansas when he was in fifth, sixth grade. He's had most of his influential years in Texas.
"There is part of him that loves KU because of mom and dad and the time he spent there. He's an awfully bright young man. He knows this is a 40-year decision. This isn't a four-year decision. He's being very thoughtful."
Brad, who has lived in many places, including London and Singapore while working for Wichita-based Koch Industries, has maintained close ties with former KU teammates and coaches for more than 30 years.
"I would have to say the relationships and opportunities that it has provided after playing," Sanders said, asked to pinpoint the highlight of his KU career. "I am working for a company from Kansas. I was hired by Bill Hougland, a former KU basketball player. I couldn't be more grateful for that, and I just think the state of Kansas, people in Kansas all have been great. I am grateful for the opportunities and kindness they've given. It goes beyond the four years. It really does."
Sanders spoke with former KU coach Ted Owens just last week.
"He talked about a lot of things. He wanted to catch up on Christian, but we talked about business, other things," Sanders said. "He is special. He is something else.
"I have an opportunity occasionally (to speak to teammates), and I really, really enjoy that," he added. "I do maintain a relationship with a number of them. Those relationships are unbelievable. They are so unconditional, very special."
Brad Sanders played in 91 games in his KU career, hitting 80 of 185 shots for 43.2 percent.
Some of his KU teammates in that Owens era included Paul Mokeski, Darnell Valentine, Ken Koenigs, John Douglas and Donnie Von Moore.
"When people ask me about my playing days at KU, I remind them I probably still have eligibility left," Brad said. "I say that jokingly, but I was not heavily recruited. I had a relationship over the years with coach Owens and (Sam) Miranda by participating in their camps. That's how our relationship was built."
There was no three-point line back then.
Christian is known as an accurate three-point bomber.
"Christian is a combo guard in the pure sense," Brad stated. "He's a very good shooter, but his real strength is IQ and ability to put people in position to be successful. He's a very, very high-IQ player and athletic, surprisingly because I wasn't. I was about the least athletic person in the history of major-college basketball."
"Yes, shooting is my strength," Christian told jayhawkslant.com after his unofficial visit. "During summer ball, that's what I do. Playing with the twins (major college recruits Aaron and Andrew Harrison), they attack and kick. In high school, I'm more of the primary ball-handler. I enjoy both and feel that I'm successful at both."
As far as his feelings toward KU: "My dad played basketball at Kansas, so growing up it was a school for our family to cheer for," Christian said. "When we moved, it lost a little bit, but in our hearts, it's always been a good school for us."
Copyright 2018 The Lawrence Journal-World. All rights reserved. This material may not be published, broadcast, rewritten or redistributed. We strive to uphold our values for every story published.