Kansas University Public Safety just got a new ride: a 2011 Dodge Charger with a student-designed logo.
The new car arrived last week, and is one of four replacing the four 2008 Ford Crown Victoria Interceptors in use. Those cars, each with about 80,000 miles, will join the unmarked fleet, replacing the 2004 vehicles currently used.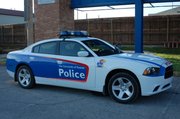 The cars each cost $21,600, according to the state's purchase contract.
Chris Keary, assistant chief for KU Public Safety, said the Charger's six-cylinder engine had best available fuel efficiency — 18 mpg city, 27 highway — and could use E-85 gasoline, a cheaper alternative.
"And the bottom line is it turned out that the Chargers with the V-6 engines were cheaper than the Crown Victorias," Keary said.
Keary added that having vehicles noticeably different from other local agencies gives KU police a distinct image.
"We like to emphasize that we are not the Lawrence Police Department; we are the University of Kansas police," he said.
KU Public Safety teamed up with Jeremy Shellhorn, a graphic design professor at KU, to let students design the car's graphics. A combination of designs by George Ressler and Andrew Joseph Meier were chosen.
The cars are modified in Lawrence before they are ready for police use. The first car was completed last Wednesday, and Keary said a second one would be ready in the next few days. He said he expected all four cars to be patrolling campus when classes begin Aug. 20.
Copyright 2018 The Lawrence Journal-World. All rights reserved. This material may not be published, broadcast, rewritten or redistributed. We strive to uphold our values for every story published.