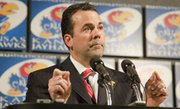 KUsports.com and the Lawrence Journal-World requested all of the contracts handed out to employees of Kansas Athletics before Sheahon Zenger was named athletic director in January of 2011.
Former Lawrence police chief Ron Olin has resigned his position as Kansas Athletics Inc. director of security and internal controls effective at the end of this month, according to an athletics department news release.
"I was asked to evaluate Kansas Athletics' internal controls, policies and procedures, to identify weaknesses and suggest improvements," Olin said in the statement, released Monday afternoon. "Since day one, I've been trying to work myself out of a job. I've done what I was asked to do and now, as a new school year is about to begin, I think it's the perfect time to step aside and offer my services as a consultant."
Olin's salary at Kansas Athletics was $115,000 a year.
Former athletics director Lew Perkins hired Olin last September for the new position immediately upon Olin's retirement as police chief, an office he held in Lawrence since 1987. Perkins ended up leaving his post 11 days later — a year earlier than he planned — and Olin continued to work for the department under new athletics director Sheahon Zenger, who came to KU in February from Illinois State University.
"Ron Olin is a widely respected expert in his field," Zenger said. "Kansas Athletics benefited from his service over the course of this past year. We wish him well in his future endeavors and appreciate his on-going commitment to Kansas Athletics and the Lawrence community."
During an interview last week with the Journal-World prior to Monday's announcement, Zenger indicated that he was still reviewing Olin's position within the department.
"That's a position that's somewhat unique to an athletic department. He and I are talking about what that role can or may be," Zenger said.
Olin has taught courses at KU since 1975 and also taught criminal justice at Haskell Indian Nations University. He also teaches classes to law enforcement officers on terrorism and counter-terrorism. He had served as Lawrence police officer from 1971 to 2010.
Associate Athletics Director Jim Marchiony said Monday the department currently had no plans to replace Olin as director of security with a full-time position. But he said Zenger and Olin have talked about Olin serving as a consultant on an as-needed basis.
Copyright 2018 The Lawrence Journal-World. All rights reserved. This material may not be published, broadcast, rewritten or redistributed. We strive to uphold our values for every story published.