Photo Gallery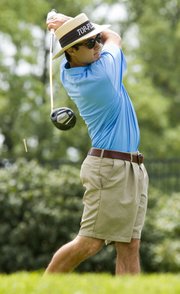 2011 LAGA city tournament Day 2
Somebody, somewhere, long, long ago came up with the idea of riding a horse to get someplace faster. Good idea. Car, even better. Radio, cool. Television, terrific upgrade, thanks largely to HBO's "Curb Your Enthusiasm." Bathing suit, nice. Bikini, really, really nice.
Complacency, bad. Tinkering, good.
A year ago, upon completion of the Lawrence Amateur Golf Association's Big Event, also known as the city tournament, one of the area's most accomplished senior golfers, local insurance man Mike Grosdidier, had an idea for how to improve it. He wanted the country clubs to get involved again. Thanks to Grosdidier and the cooperation of Lawrence Country Club, it happened.
Unfortunately, Grosdidier didn't compete because Tiger Woods isn't the only strong stick whose knee has put him on the disabled list, but he enriched the experience for those who did.
For some, Sunday represented the first opportunity to play LCC since its fabulous facelift. Friendly head pro Jon Zylstra was happy to have so many new eyes on the course, but a golfer, especially a pro, is nothing if not a tinkerer. So Zylstra shared his ambitious thoughts on how to jazz up the tournament.
"Have it over two weekends at all four courses," Zylstra said, meaning LCC, Eagle Bend and both Alvamar courses. "Throw out a number, let's say, there are 150 participants. You play stroke-play the first weekend."
One course one day, another the next.
"Have eight flights, and the top eight finishers in each flight in stroke play advance to match play the next weekend," Zylstra said.
Seed each flight, with the No. 1 finisher in stroke play matched against No. 8, No. 2 vs. No. 7, No. 3 vs. No. 6 and No. 4 vs. No. 5. The second day, moving to the final course, the second round of match play takes place in the morning. The final in each flight is in the afternoon, meaning 16 golfers from the original field play two 18-hole matches on the final day.
"Match play is a lot easier to follow," Zylstra said. "Today, there was some drama, but nobody really knew for sure where the leaders stood. It would be a true city championship. You would have stroke play and match play, and you'd play all four courses."
First, LAGA needs to grow before taking on such an ambitious format.
In a university town, it always pays to try to figure out how to wed the city and the university to the benefit of both. See if Kansas University would go for offering three-credit internships per year to two sports-management majors who serve two-year terms, the first as assistant student manager of LAGA, the second as head student manager.
On the list of things to do for the students: Upgrade the website, including results from years past and current tee times and results. Offer online signups and make registration for the event available at all city courses. Inquire as to whether the names and addresses of the Penny Jones Tournament participants can be shared with LAGA, since both benefit charity.
No point in waiting until Gary Woodland wins the Masters to grow golf in Lawrence, although something tells me it might not be such a long wait.
Copyright 2018 The Lawrence Journal-World. All rights reserved. This material may not be published, broadcast, rewritten or redistributed. We strive to uphold our values for every story published.