Photo Gallery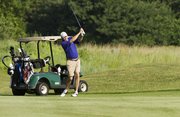 2011 LAGA city tournament Day 1
Spencer Wilson was a bit nervous when he stepped onto the teebox on No. 18 at Eagle Bend during the Lawrence Amateur Golf Association city tournament.
Not because he was struggling to that point. He played the first 17 holes in 1-under par.
He was nervous because the last three times he played No. 18 at Eagle Bend in a tournament, he made three 7s.
That's right — three triple bogeys.
"Eighteen has owned me," Wilson said.
Wilson put aside his jitters, made his sixth birdie of the round and came into the clubhouse with a 2-under 70 and the lead in the open championship-flight field.
That lead held for the rest of the afternoon. Wilson will enter today's round at Lawrence Country Club with a 5-shot advantage on Scott Wartman and a 6-shot advantage on Spencer Scott and Mike Rack.
Wilson played the first nine holes at even-par, making birdies at No. 2, No. 4 and No. 9. He bogied No. 3, No. 6 and No. 8.
He made back-to-back birdies at No. 11 and 12, a bogey on No. 16 and the satisfying final birdie at the hole where things went so wrong recently.
But Wilson, a 27-year-old assistant manager at Golf USA, wasn't completely satisfied with the round, noting that he missed the fairway a few too many times and survived without much damage to the scorecard.
"You can spray it in some spots out here and get away with it and still make some birdies, where tomorrow we're not going to be able to do that," Wilson said.
He said his tall-face putter, like the ones that he sells at Golf USA, helped. In his personal and professional opinion, the taller face helps the ball roll more smoothly.
The shot of the day came from 20-year-old Evan Schmidt, who aced No. 13 en route to an up-and-down 82.
His 7-iron approach shot on the 160-yard par-3 soared right toward the flag, took a couple small hops and trickled into the bottom of the cup.
Schmidt graduated from Free State High and will be a sophomore on the golf team at Coffeyville Community College this fall. It was his first hole-in-one.
"Now I can say that I've gotten a hole-in-one, so that's pretty cool," Schmidt said.
In the senior championship flight, Van Reichert shot 70 to lead the seven-man field. Reichert followed up an even-par front nine with a 2-under 34 on the back.
Jamie Stansell sits two shots behind, and David Davison is three off the lead.
Rose Schuh's 83 was enough to lead the three-person women's field. The group went off just eight minutes before the first men's group but finished an hour and fifteen minutes earlier.
The tournament concludes today at LCC, known for its tricky greens and tight fairways.
Wilson said he will play more conservatively and hit some woods and 3-irons off the tee.
"Keep my ego in the bag," Wilson said.
The scores will probably be a touch higher, but Scott said golfers who have experience at LCC will have an advantage.
"You can still score pretty well on it," Scott said.
Copyright 2018 The Lawrence Journal-World. All rights reserved. This material may not be published, broadcast, rewritten or redistributed. We strive to uphold our values for every story published.