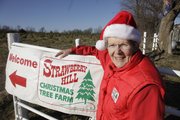 The shape and beauty of next winter's Christmas tree is probably far from your mind right now. Getting just the right look to a Scotch pine is high priority to Christmas tree farmers, though, even in the summer heat. Eric and Lyn Walther and their son Mitchell, who operate Strawberry Hill Christmas Tree Farm west of Lawrence, offer a look into the off-season of Christmas tree production.
The Walthers have just finished one of the largest tasks of the farm — pruning each tree individually. With approximately 5,000 trees, pruning takes some time.
"There's a lot to shaping the trees," Eric says. "The Scotch pine just doesn't grow in a good traditional Christmas tree form."
Tree pruning is dependent on weather conditions and completion of other tasks. Trees cannot be pruned when they are wet from rain or dew because of the risk of spreading fungal disease from tree to tree. When the temperatures are exceedingly high, like recent late afternoons, trees suffer additional stress. And there's the mowing and equipment maintenance to work around.
To top it off, trees must be pruned every year from planting to sale, typically a seven- to eight-year span.
"This is the time of year when you're just doing plain old sweaty, hard work," Lyn says. "This is when we have to remember November and December, with the kids coming in and the families, the stories and the smiles. Some of the families are on their third generation of coming to us now. I don't know of any other types of farming operations that really get that pleasure."
The vision of families cutting down their trees on crisp snowy days before climbing onto the hayride is certainly a strong one. Besides the pruning, mowing, stump grinding and planting, Christmas trees are susceptible to a few common insect and disease pests.
The tree farm has seen a number of insect problems since it opened in 1985, Eric says.
"The last few years, we have really had problems with bagworms. In previous years, we've dealt with tortoise scale and white scale and tip moths," he says. Tortoise scale and white scale are small insects that feed under a protective shell.
Sometimes trees lose a branch or section of needles to diseases like brown spot, which the Walthers say is not worth trying to spray with a fungicide.
"It's a no-win situation. We just cut them down and burn them when we see it," Mitchell says.
Despite the list of pests, the Scotch pine is the best species for Christmas tree production in Kansas. The other major diseases that affect Scotch pines — the deadly pine wilt and stressful tip blight — most commonly affect older trees. Ideally, Christmas trees are cut down before these diseases become a problem.
Eric notes that the drought has been more of a problem than disease or insects on their farm. Between the years 2002 and 2005, the Walthers planted about 4,000 additional trees and lost nearly all of them in droughty conditions. Irrigation is not cost effective.
Strawberry Hill Christmas Tree Farm has been able to withstand hard times that drove other Christmas tree growers out of business, though. Eric credits their success to participation in the Kansas Christmas Tree Growers' Association, and to help they received from former Douglas County Extension Director Earl Van Meter. Mitchell is currently serving as president of the association.
Eric also notes that they try to work with the other local Christmas tree growers. If a customer is looking for an especially large Christmas tree, for example, they will refer the customer to Prairie Elf Christmas Trees, who typically have some larger specimens.
A letter in my files dated 1986 indicates that there were 30 Christmas tree farms in Douglas County alone. Today, there are only four: Strawberry Hill Christmas Tree Farm, 794 Highway 40; Prairie Elf Christmas Trees, 765 E. 750 Road; Evening Star Pines, 9820 Evening Star Road, Eudora; and Green Forest, 292 N. 2100th Road, Lecompton.
Copyright 2018 The Lawrence Journal-World. All rights reserved. This material may not be published, broadcast, rewritten or redistributed. We strive to uphold our values for every story published.