-->
On the street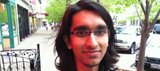 No. I don't drive.
It is, approximately, 178 degrees in downtown Lawrence.
I'm sure I could prove this with more specificity by buying a thermometer at Ernst & Son Hardware, 826 Mass. I likely could buy it for 33 percent off. It is Sidewalk Sale Day, after all.
And, surely, it is the day that downtown parking becomes loopier than the barking man atop the ladder at Sunflower Outdoor & Bike Shop, 802 Mass. Just think about it: On Sidewalk Sale Day, downtown becomes like a giant magnet for parkers.
And here I am driving around like a country bumpkin in my old F-150 thinking I'm going to find a parking space in the most prime of spots: northwest downtown. This is where the swimming pool is (I think I mentioned that it is warm). This is where the library is (Bookishness has no offseason). And today, this is where shoppers trying to get half-priced running socks at Garry Gribble's Running Sports, 839 Mass., (I was told you need special socks to run, which I'm sure explains my lack of success) will try to park their bargain bandwagons.
But I'm confident that I will find a spot, and I won't have to burn two gallons of gas doing it. (Well, I'm in the F-150. I burn two gallons starting it up. But you get the point. I'm not going to circle to find a spot.)
You see, I have this theory about downtown parking. I believe that on almost any day of the year, I can find a parking spot and be within a five minute's walk of my destination. So on this Sidewalk Sale Day, I decided to put the theory to a test. I wanted to find out whether downtown Lawrence really has a parking problem, a perception problem or maybe just a walking problem.
• • •
Cathy Hamilton, executive director of Downtown Lawrence Inc., knows what type of problem she thinks downtown has.
"I completely think this is a perception problem," Hamilton said. "I have worked down here for over 23 years, and I never remember having to walk very far."
City Commissioner Bob Schumm, a longtime restaurant owner, has been in downtown for more than 40 years. He thinks you can sum up downtown's parking situation pretty easily.
"There is always a perception that there is not enough parking because most people would like to park on Mass. Street," Schumm said. "Most people would like to eat tenderloin steak instead of round steak, too. But in reality, there's plenty of beef to go around."
As Schumm points out, there are free, two-hour parking lots just one block off every downtown stretch of Massachusetts Street, except for the 600 block. Even on that block, there are free two-hour spaces along the ramps of the Riverfront Parking Garage at Sixth and New Hampshire streets.
In addition, there are 10-hour parking meters throughout the downtown area where motorists can purchase two-and-a-half hours of parking for 25 cents.
Hamilton said there probably does need to be more marketing and more education about what's available in downtown.
"You know, a block sounds a lot scarier than saying you have to walk a couple of minutes," Hamilton said. "But for most people, it takes five minutes to walk three or four blocks.
"It has never made any sense to me. Oak Park Mall on a Saturday, I guarantee that you'll walk at least three minutes in the parking lot and another two minutes or more once you're in the mall."
• • •
Lawrence residents may get to hear quite a bit about downtown parking in coming weeks. Lawrence city commissioners are expected to take up a discussion of whether to spend another $1 million or so to add another level of parking to a proposed garage that will be built as part of the Lawrence Public Library expansion.
Architects are still working on cost estimates for the extra parking level, which city officials previously have said may provide another 75 spaces or so. Details for how the city may pay for the additional parking also haven't been hammered out.
But Schumm said he expects the discussion to occur soon. He said the city needs to think seriously about adding more parking, even if there is not a shortage of spaces today.
"Right now, most of downtown is in balance," Schumm said. "There generally are enough parking spots for the people who want to park. But if you want to see downtown improve from where it is today, you have to believe that is going to mean more occupancy downtown and more people on the street. You have to consider where those people are going to park."
Schumm said he'll lobby hard for an extra level to be added to the library garage — which is expected to have spaces for about 250 vehicles, up from 126 spaces in the existing library lot.
"We're never going to build another parking garage in that location," Schumm said. "I'm going to push for as many parking spaces as is feasible in that location."
• • •
The F-150 rolls with confidence. It really does. I know that soccer moms across the city are laughing at me. Trying to find a convenient parking spot for the pool on Sidewalk Sale Day? Such a male.
But I have reason to be confident. Since about 9 a.m., I've been out driving and parking in downtown Lawrence. Not once have I failed in my goal of finding a parking space that is within five minutes of my destination. I've been to the library, I've been to the GAP, I've been to Sylas & Maddy's ice cream, and I've been to a barber shop in the 800 block of Mass. I found a different parking spot for each location, and so far I've spent only 25 cents in parking fees.
If you want to find out how I did each one of those, check out the videos I shot on LJWorld.com. If you like shaky, handheld videos of a guy in cowboy boots and a dress shirt, you'll love these. (It's like "The Blair Witch Project" meets John Denver.)
I do have a strategy for finding a primo pool spot. I find that when it comes to downtown parking, it is helpful to know a little geography. Get off the beaten path of Massachusetts Street, grasshopper. Stay away from the library lot, too, on a day like this. You would need your Elmer Fudd cap because you'll certainly have to hunt for a spot, and get a little lucky.
Instead, I head for the relatively small city lot at Sixth and Vermont streets. It is just north of the First State Bank and Trust building. It has entrances off both Vermont and Kentucky streets.
My confidence was justified. About 1:30 in the afternoon on Sidewalk Sale Day, there are seven empty spaces in the lot. (Although two are parallel spaces. They are dead to me. The F-150 and I do not parallel park.)
I spend 25 cents for two hours and 30 minutes of parking. I walk down the shaded side of the street and arrive at the front gate of the pool in just over three minutes.
How was the swim, you ask?
Can you believe it? They wouldn't let me swim without trunks. Come on, it is Sidewalk Sale Day.
Copyright 2018 The Lawrence Journal-World. All rights reserved. This material may not be published, broadcast, rewritten or redistributed. We strive to uphold our values for every story published.