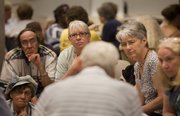 Lawrence residents and community leaders gathered Saturday to voice their opinions about the upcoming closure of the Lawrence SRS office.
Over 97 people attended the forum, sponsored by the Lawrence League of Women Voters and the United Way of Douglas County.
Kay Hale, the league president, said the purpose of the forum was for providers and recipients of SRS services to begin planning a response if the Lawrence office closes on Oct. 1 of this year.
Front-line workers, social-work administrators, recipients and other concerned residents divided into respective groups, venting frustrations and sharing ideas about the forthcoming closure.

"Today is really focused on trying to address the need to plan," said Erika Dvorske, president and CEO of the United Way of Douglas County. Dvorske said the discussion was the first step to planning a response and an opportunity to assess the community's needs.
The groups discussed several topics, including the current status of social services in Douglas County and their knowledge of the situation. Participants also talked about possible repercussions of the closure and social service needs of the state and community.
After meeting, the groups shared their responses. Some said they needed more information and a definite plan about closures, adding that face-to-face contact and personal relationships with the SRS service recipients were a necessity.
Others were more blunt, simply stating they needed the Lawrence office to remain open.
Hank Booth, director of government and community affairs for the Lawrence Chamber of Commerce, wanted more time for negotiations to proceed. He also urged residents to refrain from uncivil speech and behavior.

"The political barbs have got to stop," Booth said. "We will not get a working dialogue with Topeka if the hurling of insults continues."
Other local leaders participating in the discussions were state Sen. Marci Francisco, D-Lawrence; state Rep. Terri Lois Gregory, R-Baldwin City; House Minority Leader Paul Davis, D-Lawrence; state Rep. Tom Sloan, R-Lawrence; and Douglas County Commissioner Nancy Thellman.
Copyright 2018 The Lawrence Journal-World. All rights reserved. This material may not be published, broadcast, rewritten or redistributed. We strive to uphold our values for every story published.