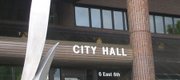 Subscribe to the email edition of Town Talk and we'll deliver you the latest city news and notes every weekday at noon.
News and notes from around town:
• Perhaps just like the restaurant's breadsticks, you get more than one chance at landing an Olive Garden in Lawrence. Several sources at City Hall have told me that officials with the development group at 27th and Iowa have indicated they'll likely file a new plan for a project that would include an Olive Garden restaurant.
The restaurant would be on the same site — the northeast corner of the intersection — as previously proposed. That previous proposal created quite a bit of controversy because it was asking for a tax rebate to help the finances of the development. The sources I talked with all said the new plan is not expected to ask for any such city incentives. Instead, there was some talk that the development group was exploring a federal tax credit program that could be of assistance. Not sure what that tax credit would be, and the sources weren't clear on that point either. So, take that piece of information for what you want. I haven't yet seen an official site plan filed at the Lawrence-Douglas County Planning office, but I'll be keeping my eyes out for it. The sources I talked to weren't particularly surprised by this latest development. They sensed all along that Olive Garden had a strong interest in the Lawrence market.
I would think an Olive Garden project that doesn't seek any city incentives would clear City Hall without much problem. The site already has much of the zoning it needs. The major portions of the property previously were a pizza place and a Chinese buffet. (Two restaurants. Not a combination pizza/Chinese joint. Ah, to dream the impossible dream.) I haven't yet caught up with a representative for the development group. If I hear anything from that end, I'll let you know.
• As Lawrence and Manhattan battle to win a $100,000 contest to see which community can do the best job of saving electricity, here's a business that we ought to get extra points for. Downtown Lawrence now is home to a company that specializes in LED lighting. The LED Source has opened up in office space at 10 E. Ninth Street. Adam Ritchie, owner of the local franchise, said Lawrence stuck out to him as a market that could use a store like his.
"This is the type of place to have this type of business," Ritchie said. "It is a green friendly and an aware type of place, which is important because there have been a lot of mis-education with LED lighting."
Ritchie said many people confuse LED lighting with compact fluorescent bulbs and some of the drawbacks that come with CFLs. Both are longer lasting and use less energy than traditional bulbs, but LEDs don't have some of the slow warm up issues and other drawbacks.
But they do cost a lot more than a traditional light bulb. An LED bulb may cost you around $60. But prices are coming down as the bulbs become more mainstream, and Ritchie said part of his job is to educate people how the bulbs eventually pay for themselves.
He says a typical 50-watt Halogen light bulb will last about 2,500 hours. To get the same amount of light, you could use a 9-watt LED that would last about 40,000 hours. Ritchie estimates the energy and maintenance savings (hey, if you're a business you've got to pay somebody to change it, or perhaps change many of them) equates to about $20 per year.
Ritchie's business works with both homeowners and businesses, but he said he expects a lot of his sales to come from the commercial market because the paybacks are often quicker.
"But if you have a house with a lot of landscape lighting, they pay off quickly in those situations too," he said.
If we really wanted to gain extra points in this competition ( and we do, since the winner receives a $100,000 grant) we would point out as I have previously reported that Lawrence also is home to an LED research and manufacturing firm at the bioscience and technology incubator on KU's West Campus. They ought to just send the $100,000 now.
• The old Baldwin Junction intersection soon may be growing some new jobs. Lawrence-Douglas County planners at their meeting on Monday will consider a request to allow a commercial greenhouse to expand just south of the intersection where the old Highway 59 intersects with U.S. Highway 56. Applied Ecological Services has plans to take over an existing greenhouse operation at 1271 N. 222 Road and add about 20,000 square feet of space to the operations in the near term and perhaps up to 60,000 square feet by 2025.
Based on the company's Web site, the firm provides all sort of consulting and design services for things such as green roofs, rain gardens, prairie and savanna restoration, streambank protection, wetland restoration and a host of other topics. According to the materials provided to planners, the Baldwin site would focus on producing plants needed for their projects.
But the company asking for approval to add a small retail nursery business at the site. That part of the business, though, is not expected to be developed until after 2015. The application before planners also would clear the way for the property to house multiple employees. Phase one of the development, expected to occur before 2015, would allow 20 employees. Phase III of the project, expected to occur before 2025, would allow up to 40 employees.
The company is not new to the area. Its Web site currently lists an office in Oskaloosa (it is headquarters are out of Wisconsin.) The company several years ago had an office in Eudora along Kansas Highway 10.
The Lawrence-Douglas County Planning Commission will consider approving a conditional-use permit for the project at its 6:30 p.m. meeting on Monday at Lawrence City Hall.
Copyright 2018 The Lawrence Journal-World. All rights reserved. This material may not be published, broadcast, rewritten or redistributed. We strive to uphold our values for every story published.