Photo Gallery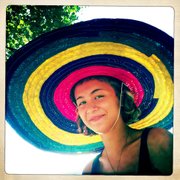 2011 Downtown Lawrence Sidewalk Sale
The blistering heat didn't stop shoppers from sniffing out the bargains Thursday at the 51st annual Downtown Sidewalk Sale in Lawrence.
Businesses along Massachusetts Street set up shop in front of their stores, luring customers with discounted merchandise.
Melissa Beatty specifically came to Lawrence from Kansas City, Mo., to shop at Garry Gribble's Running Sports.
"I got a pair of running shorts for $5," Beatty said. "I was very excited."
Cathy Hamilton, director of Downtown Lawrence Inc., said she wasn't sure how the high temperature of 101 would affect the event. Organizations and businesses provided free water and access to air conditioning to help shoppers survive the heat, and Hamilton said she thinks the effort made a difference.
"I am pleasantly surprised because I was down here before dark and couldn't find a parking spot," said Hamilton, who directed her first Sidewalk Sale this year. "I think it's been a great turnout."
Hamilton said the merchants she talked to said they were happy with the sale's attendance.
"It's the busiest as it's ever been," said Mary Cox, owner of Shark's Surf Shop, 813 Mass. "The heat did not slow it down."
Meghan Misenhelter, an employee at Weaver's Department Store, 901 Mass., said that although last year was cooler, the number of customers this year was about the same.
Caroline Mathias, owner of Foxtrot, 823 Mass., also said the event went well. Mathias said that her store was busy in the morning and would probably pick up later in the afternoon, as more people got off work.
The sale was to end around 9 p.m.
Copyright 2018 The Lawrence Journal-World. All rights reserved. This material may not be published, broadcast, rewritten or redistributed. We strive to uphold our values for every story published.