A 28-year-old Lawrence man admitted Wednesday to sending sexually explicit text messages and photographs to a 12-year-old Douglas County girl in March and is expected to face 20 years in prison.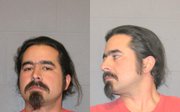 Willie J. Burtrum pleaded guilty to attempted electronic solicitation of a child, and attorneys said as part of the plea deal he agreed to serve 247 months in prison.
Amy McGowan, a chief assistant district attorney, said prosecutors had evidence that Burtrum was in Lawrence on March 19 and sent the messages to the Baldwin City girl he was acquainted with.
"The photographs and texts were of a sexually explicit nature," McGowan said.
Police arrested Burtrum after an investigation.
Attorneys said Burtrum faces the 20-year sentence due to his past criminal history. He would also be required to register as a sex offender.
As part of the plea agreement, prosecutors agreed to dismiss misdemeanor charges related to a 2010 domestic incident. District Judge Sally Pokorny is scheduled to sentence Burtrum Oct. 3.
Pokorny revoked his bond on Wednesday.
Copyright 2018 The Lawrence Journal-World. All rights reserved. This material may not be published, broadcast, rewritten or redistributed. We strive to uphold our values for every story published.