The bird population in Kansas is, well, flighty. Some birds arrive; other birds leave. Some pick up and move to a different part of the state.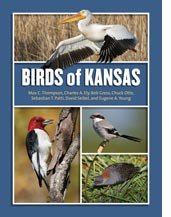 Max Thompson has studied these changes for decades, and he still doesn't have all the answers — just some hunches.
"We don't always know why they change so much," says Thompson, a former biology professor at Southwestern College in Winfield. "That's a good question. We're not sure anybody knows why."
And that's what keeps Thompson and other bird-lovers headed out to the country time and time again, with binoculars in hand. They never quite know exactly what they'll find.
Those changes are documented in a new book co-authored by Thompson and six of his bird-watching colleagues from throughout the state. "Birds of Kansas," published by University Press of Kansas, details the 473 species of birds that have been documented in the state. That's 47 more than the last similar book, "Birds in Kansas," co-written by Thompson in two volumes published in 1989 and 1992.
"Birds of Kansas" includes color photographs, bird descriptions and histories, and maps of where they have been spotted.
Thompson says there are many factors to why nearly 50 new birds have been sighted in the state during the past 20 years. Warmer winters mean birds are moving north sooner and farther, for instance. But he attributes some of the increase to Kansans doing a better job documenting the birds that are here.
"It's amazing. We have quite a lot of good bird-watchers in Kansas," Thompson says. "And now with digital photography, they can take a picture of what they see. It makes it much, much easier to check if we're not sure they saw what they said they saw."
New species in the last two decades include the long-billed murrelet, Ross' gull and broad-billed hummingbird.
In some cases, the species are simply expanding or contracting within Kansas. Bob Gress, a co-author and director of the Great Plains Nature Center in Wichita, points to several examples:
• The barred owl was once found only in eastern Kansas but now is found farther west with the expansion of riparian woods.
• Red-shouldered hawks and Cooper's hawks are both expanding westward.
• Turkeys now are found throughout most of Kansas, when they were found mainly in the eastern part of the state before.
The news isn't all good. Gress says grassland birds, including greater prairie chickens, meadowlarks and grasshopper sparrows, are suffering from pasture burning that leaves little nesting habitat for them. Those habitats that remain mean more highly concentrated nests that are more susceptible to predators. Earlier grazing seasons for cattle also lead to a lack of nesting habitat.
"The birds are taking it on the nose," Gress says. "Whether we do anything about it or not will be up to people in the future to decide."
Both Gress and Thompson say Kansas has an impressive list of birds that have been documented here. A variety of habitats, including woodlands in the east, grasslands in the central and west, and two nationally important wetlands — Quivira National Wildlife Refuge and Cheyenne Bottoms Wildlife Area — are part of the reason. Also, the state is located along the Central Migratory Flyway, which draws birds from as far away as South America during seasonal migration.
"For an inland state, Kansas ranks very high for the number of species of birds," Gress says.
And with the way the birds fluctuate, there's no doubt the number of species spotted here will increase. In fact, two new species have been added to the list even since the book was published a few weeks ago.
"It was outdated between the time it was approved and when it hit the bookshelves," Gress says. "That's pretty much the case for every bird book that's ever been done. This is a snapshot of a point in time for Kansas ornithology."
Copyright 2018 The Lawrence Journal-World. All rights reserved. This material may not be published, broadcast, rewritten or redistributed. We strive to uphold our values for every story published.