I always look forward to the fall and spring haute couture shows. The collections are extravagant, sometimes even outrageous. And because they are couture, anything goes — not one gown can be called too gaudy or too opulent. They are one-of-a-kind, hand-sewn masterpieces. I recently perused five of this fall's couture collections by designers at leading fashion houses — and not a single collection let me down.
Armani Prive:
Ever since Armani's Spring 2008 Prive Couture Collection, I have been a huge Giorgio Armani fan. At 77 years old, the man continues to produce innovative collections. Armani has anything but settled for a tried-and-true style, even at such a late point in his career. For Armani Prive Fall 2011, Armani once again showcased a fresh, modern couture line. Armani's collection was inspired by Japan. The garments, described to be "restrained and subtle," were beautifully crafted and detail-oriented. Floral motifs, origami-like pleats, and head-pieces were all perfectly constructed. The models walked with beautiful posture, almost lifted up by the clothes themselves. Armani's Fall 2011 Collection is both avant-garde and timeless.
Valentino:
Like Armani Prive Couture, Valentino Couture Fall 2011 looked to another culture for inspiration. Traditional Russian dresses were the launching point of this collection; however, garments were modernized, their shapes reinterpreted in new silhouettes. Old techniques, such as braided fabric pieces, were also incorporated into much of the construction. One model claimed she "felt like a princess, [she] felt like royalty." And indeed, the collection did feel regal — gold trimmings, velvet fabrics, and elaborate stitches were not spared.
Chanel: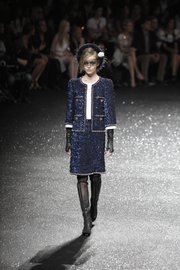 Karl Lagerfeld always puts on a breathtaking show, and his couture collection is no exception. Guests were seated around a square stage, a set described to be reminiscent of an oversized GPS machine, or Fritz Lang's sci-fi film, "Metropolis." Lagerfeld's models walked coolly through the set, making slow turns and steady steps to the music. Lagerfeld combined classic tailoring with modern, somewhat androgynous silhouettes. He utilized classic patterns among his mostly black-and-white color palette. Notably, the loudest repetitive color in the collection was a bold, purple-y magenta. Lagerfeld's Fall 2011 Couture Collection is historical and fantastical, as the designer set out to capture two different attitudes for one woman.
Copyright 2018 The Lawrence Journal-World. All rights reserved. This material may not be published, broadcast, rewritten or redistributed. We strive to uphold our values for every story published.