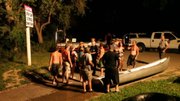 10:31 p.m.
Sgt. Steve Lewis said the 15 people, who were on a float trip, trickled in from the Kansas River and got out at Riverfront Park from around 9:30 to 10 p.m. The group used canoes, life jackets, rafts and inner tubes to float down the river. None were injured or appeared to be in any danger.
10:07 p.m.
According to Lawrence Douglas County Fire-Medical division chief Joe Hoelscher, a total of 15 people have been found and removed from the Kansas River. None of them were injured. Rescue crews had originally conducted a search for just five teenagers after they had not contacted their parents.
Stay logged on to LJWorld.com for more details.
9:20 p.m
Douglas County Sheriff's Department sergeant Steve Lewis confirmed that officers from the department and Lawrence police are assisting Jefferson County in the search for five kids believed to be in their late teens and from the Perry area. Lewis said the kids had put their boats in at the Delaware River south of Perry Lake.
Lawrence Douglas County Fire-Medical sent a search boat around 8:45 p.m. that headed upstream from Lawrence to look for the party.
Lewis said he was not aware that Douglas County had made contact with the children as of 9:15 p.m., but said another agency had. Jefferson County dispatchers said they had not made contact with the children.
Original post
Douglas and Jefferson county law enforcement officers are searching for "about five" kids along the Kansas River near Lecompton. According to Douglas County dispatchers, the children were supposed to have returned home but are not answering their cell phones.
Crews were set up in Riverfront Park around 8:30 p.m., which only access point to put a boat on the Kansas River between Lawrence and Lecompton. Rescue teams were searching the Delaware River, west of Lecompton, as well.
The agencies are checking the availability of an air boat or helicopter to assist in the search as of 7:50 p.m.
Stay logged on to LJWorld.com for updates as they are available.
Copyright 2018 The Lawrence Journal-World. All rights reserved. This material may not be published, broadcast, rewritten or redistributed. We strive to uphold our values for every story published.