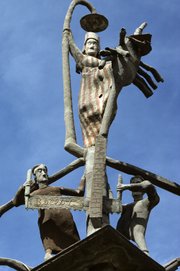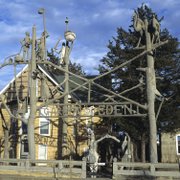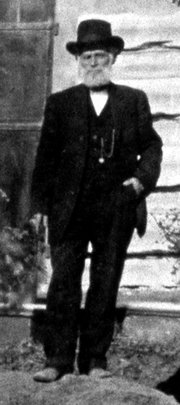 An area company is getting out of the Garden of Eden business, its leaders confident that the project born more than a century ago will grow in popularity and stature.
Garden of Eden Inc., owned by more than a dozen Lawrence residents and others with Lawrence and Kansas University ties, has sold its historic site, statues and structures in Lucas to the Kohler Foundation, which is rehabilitating and restoring S.P. Dinsmoor's collection of grass-roots art fashioned from concrete, wire and native stone.
"They have never had any conservation work," said Jon Blumb, a Lawrence photographer, company stockholder and former president. "We've always been very lucky that there's been no storm damage or something of that sort. We have owned the site since 1989, and it's always been our intention to mount a proper conservation project, and it's a big undertaking.
"We're very pleased that the Kohler Foundation can be involved."
Once the work is complete, the Garden of Eden, which typically draws about 10,000 visitors a year, will be turned over to a new not-for-profit organization created to oversee the site and maintain it as a tourist attraction: Friends of S.P. Dinsmoor's Garden of Eden, based in Lucas.
Leading that organization will be John Hachmeister, an associate professor of sculpture at KU and founder of Garden of Eden Inc.; Erika Nelson, an artist who lives next door to the garden and who studied art at KU; Doug Hickman, a retired Lucas banker; and Saralyn Reece Hardy, director of the Spencer Museum of Art at KU.
The dozens of statues Dinsmoor created — including Cain's dog, Adam and Eve, a tempting apple — from 1907 to 1928 now are being given new life in the 21st century by a foundation committed to preserving grass-roots art.
Crews already are cleaning dirt, stains and lichens from concrete surfaces, Hachmeister said. Some concrete will be stripped away, too, so that the home's sagging porch can be reinforced, allowing the original concrete to be put back in place.
Hachmeister, whose ownership group gladly wrote off losses on their taxes over the years to keep the site intact, figures the foundation could invest as much as $1 million in the project.
"They've made it very clear that they will do whatever it takes," he said. "This is fantastic. It couldn't get any better than this. It really couldn't."
Copyright 2018 The Lawrence Journal-World. All rights reserved. This material may not be published, broadcast, rewritten or redistributed. We strive to uphold our values for every story published.