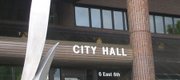 Subscribe to the email edition of Town Talk and we'll deliver you the latest city news and notes every weekday at noon.
News and notes from around town:
• Man, it is like page 300 of a J.K. Rowling novel. Action is really starting to pick up surrounding the $18 million expansion of the Lawrence public library. There are two pieces of news on the library front. First, library leaders confirmed to me that they've now raised more than $500,000 in private money to help fund the expansion. Second, new renderings for the exterior of the library are nearly complete. I haven't seen them, but I've been told they are significantly different from the images used during the campaign. Let's take these one at a time:
The library project has gotten the tag of an $18 million expansion, but more technically it is really a $19 million expansion. The $18 million comes from the public sector through new debt at City Hall. The last $1 million will come from private donations made through the library's foundation. Foundation director Kathleen Morgan confirmed to me that the foundation has raised more than half of its $1 million goal. The donations have come from 70 donors, and library leaders have been out beating the fund-raising bushes for about five months. So, a good start. The foundation also recently got a boost from the state. The Kansas Department of Commerce awarded the project a little more than $220,000 in state tax credits. The way the credits work are, if you give at least a $1,000 donation to the library project, you get a tax credit equal to 50 percent of your donation. The credit, of course, means you get to pay less in state income taxes. If you owed $1,000 in state income taxes, and you had a $500 credit (put the calculators away, I'll do the math for you), you suddenly would owe only $500 in taxes. The library foundation will hand out the credits on a first come, first serve basis. Here's another opportunity for you. If you give a large enough donation — I think it is going to be quite a bit more than $1,000 — you can get naming rights for an area of the library. There are four areas that the foundation has been focusing its fundraising on. They are: the children's room, the teen area, the technology area, and the outdoor plaza area. If you haven't yet been given the opportunity to donate to the library project, don't worry. Calm down. You will get your chance. Morgan said the fundraising has been in a "quiet phase," but a community-wide phase likely will start in the fall.
Soon, all of Lawrence will become an architecture critic. Leaders at Gould Evans architects are close to finishing up new renderings for the exterior of the expansion. A few renderings were presented during the campaign, but Morgan said it became clear that they weren't loved as much by the public as they should be. Mayor Aron Cromwell added fuel to that fire by saying after the election that the building's design must reflect its nature as a true signature building for downtown. Morgan said the library is planning to do a public unveiling of the renderings either late this month or in early August.
But she did give me a few details. She didn't tell me what type of architectural style the new design is (unless it was ranch-style, I wouldn't have known how to describe it anyway.) But she said the addition actually will "wrap around" the current building, so the "exterior will look quite a bit different."
She also said the new design does take into account concerns raised by neighbors in old West Lawrence that the previous design did not have a very functional western entrance.
"They have reconfigured it so you don't have to walk through the parking lot to get to the front door," Morgan said.
There are major changes for the parking garage as well. Morgan said the plans no longer call for the garage to stretch from north to south. Now, the garage's long edges stretch from east to west.
That change has created an open space between the parking garage and the library. That area is now being designed to be a public plaza.
"We think it will almost be like a pocket park," Morgan said.
The area will be sloped, from a high point at Vermont Street to a low point at Kentucky Street. Morgan said that may make the area ideal for hosting outdoor movies and other performance type of events. As we've previously reported, there is also talk of moving the Lawrence Farmers Market to the plaza area, but no decision has been made on that. Morgan also said library leaders already are starting to think about what type of outdoor programming they can offer to patrons.
One of the bigger questions probably will be, however, whether the new design allows for the parking garage and the library to be connected by a covered walkway that will allow people to stay out of the weather. We will see soon enough.
(And yes, I am jealous of J.K. Rowling.)
• Fans of the longtime downtown sweet shop Penny Annie's may soon be jealous of Eudora. As we reported last month, Penny Annie's closed its location at 845 Mass. But an owner of the business confirmed to me that they are in the process of reopening in downtown Eudora. Monica Bowers-Istas said the store hopes to be open by Aug. 1 at 704 Main street in Eudora.
The store still will sell candy, fudge and ice cream, but it doesn't plan on keeping its lunch counter business. The location, however, will feature a new kitchen area where patrons can watch store employees make fudge and flavored popcorn. The company for years has had a strong popcorn business, and with the move to Eudora it is expected to become a bigger part of the business.
Bowers-Istas said the company will increase its efforts to sell the popcorn online, and also will look for wholesale opportunities. But she hopes the business also will have a lot of its old Lawrence feel.
"We hope to be able to become a place for some of the kids here in Eudora," said Bowers-Istas, who lives in Eudora with her family. "A lot of the kids are looking for something fun to do."
The new space will be designed as a rental facility for birthdays and other such events too, she said. Foot traffic will be much less in Eudora, but as Bowers-Istas pointed out, so is the rent.
"We loved Lawrence," she said. "But we just needed to get out. The rent was a little too much for us. We're hoping to keep some of our Lawrence customers. It is a short drive."
• File this away in the category of pure rumor, but fun nonetheless. I got a tip late yesterday that the crew for the television series Extreme Makeover: Home Edition will be staying in a Lawrence hotel for awhile. As the rumor goes, the show will be redoing a home about 45 minutes south of Lawrence, and the crew wanted to stay here as opposed to there — where ever that is. I probably wouldn't have mentioned this, except this morning I did get a press release from UMB Bank announcing that the company has established a Family Build Fund for the Extreme Makeover: Home Edition. The press release says one lucky family in the "Greater Kansas City region" will forever have their lives changed when they "hear that special knock on their door." According to the press release, several families are under consideration for a home makeover. I don't know what is going on. Keep an eye out for rhinestone studded tool belts, I guess.
Copyright 2018 The Lawrence Journal-World. All rights reserved. This material may not be published, broadcast, rewritten or redistributed. We strive to uphold our values for every story published.