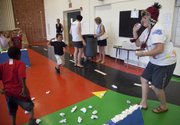 For kindergartners at the Boys and Girls Club, figuring out how to beat the heat is easy.
Just pretend.
About two dozen kids participated in a "snowball" fight Wednesday afternoon — hurling wadded-up paper from behind cotton-topped forts fashioned from floormats inside the East Heights gym — as temperatures outside continued to rise far above freezing and well into sweltering.
"We're going to make snow angels out of shaving cream," said a smiling Melissa Rankin, who will be a first-grader at Woodlawn School. "It's fun. I like it to be cold."
This morning, she and her fellow program participants will continue the chilling fantasy by wearing snow boots into their room at East Heights, 1430 Haskell Ave. And while others may dismiss such youthful optimism, it may be helpful to remember: Complaining about the heat doesn't do anyone any good, either.
With that in mind, we checked in with some experienced folks about strategies for dealing with such stifling conditions. So slow down, find some shade and soak up their suggestions, if you need a little help slogging through these suffocating summer days:
Kids play
Who: Kindergarten program for the Boys and Girls Club of Lawrence at East Heights.
Challenge: Handle 25 kids, all wanting to play and learn and run and talk and eat and dance and paint and — well, you get the idea.
Solution: Imagine.
"We call it 'Winter Wonderland,' " says Julie McCormic, who works as a group leader along with Abby Vestal in helping the kids make hand-print wreaths, create paper snowflakes, watch winter-themed movies such as "Happy Feet" and "Ice Age" and read "Frosty the Snowman." "We had a 'polar plunge' (at the pool), where we had everyone in a line and they all jumped in and got back out and started shivering, 'Brrrrrrr!' …
"I think they're having a lot of fun. They're young enough for the imagination to take over."
Street suffering
Who: City of Lawrence's Department of Public Works, which has 40 maintenance workers out patching potholes, repairing concrete, resurfacing streets and handling other hot tasks.
Challenge: Sling as much as 200 tons of asphalt heated to 320 degrees, while wearing steel-toed boots, jeans, gloves, safety vests and T-shirts with sleeves.
Solution: Watch the clock.
"We time our work so that they're doing the hottest part of the work in the early-morning hours," said Mark Thiel, assistant director of public works, who sees crews arrive as early as 6 a.m. "When the temperatures are in the 90s and over 100, the crews come in early. They basically get a 45-minute to an hour head start on the heat."
Even so, he says, "it's just miserable. The only way to describe it is, it's just not fun."
Going green
Who: Lawrence Landscape, with 40 field crew members working out of a shop at 600 Lincoln.
Challenge: Mow lawns, maintain irrigation systems, install landscaping and otherwise handle work that, by definition, must be conducted outdoors.
Solution: Look at the bright side.
"In the landscape business, you go into a bank and they say, 'Oh, it's a beautiful day outside,'" says Frank Male, an owner production manager, who knows such observant office workers often are correct. "We have the upper hand 120, 150 days a year, working outside.
"But we do get the cold and the hot — the extremes — when it's no good to be a landscaper. It's just tough."
Copyright 2017 The Lawrence Journal-World. All rights reserved. This material may not be published, broadcast, rewritten or redistributed. We strive to uphold our values for every story published.