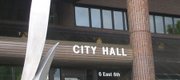 Subscribe to the email edition of Town Talk and we'll deliver you the latest city news and notes every weekday at noon.
News and notes from around town:
• There is now another way to get toasted in Lawrence, well, as far as sandwiches go anyway. Quiznos has reopened its store in the Tower Plaza Shopping Center at 2540 Iowa Street. As we previously reported, the restaurant closed without much warning several months ago. A sign on the door said it would reopen soon, but that didn't materialize. I don't know the whole back story of this one, and I haven't been in yet to the reopened location. But I did see a man dressed up in a sandwich costume walking along the store's South Iowa Street frontage. So, if they're not open, he's going to feel mighty funny.
• It looks like 2012 will be the year that a traffic signal is added to the 23rd and O'Connell intersection in eastern Lawrence. As part of his recommended budget, City Manager David Corliss is calling for a traffic signal to be added to the intersection. The signal is part of a larger plan to improve access to the former Farmland Industries site on the north side of K-10. The city took ownership of that 467-acre site with the goal of converting it into a new business park. Originally, the city had thought of putting a traffic signal at Franklin Road, which is east of the O'Connell intersection. But now Corliss said city leaders believe a light at 23rd and O'Connell will work better. A light there certainly could provide a boost not only to the Farmland property, but also to the Fairfield Farms retail development on the south side of K-10. It has struggled to find tenants. Currently a Tractor Supply store, an old silo and nice new roads are all that occupy the site. Bill Newsome, a lead partner for the development group, has told me he's still marketing the site as a prime location for a new Lawrence grocer. Maybe a light will help. It certainly won't hurt. The light also may end up helping the nearby East Hills Business Park. The city's plans call for motorists to be able to turn north into Farmland and then connect with a new frontage road that would travel east to the East Hills Business Park. That would provide an alternative to the dangerous entrance to East Hills at the top of the hill.
Another Farmland-related project to keep an eye on deals with 19th Street. Corliss has said he wants to explore extending 19th Street east, so it runs through the Farmland property and connects with Noria Road on the east edge of Lawrence. That could change East Lawrence traffic flows significantly, so discussions with neighborhoods will occur.
All told, the city has $4 million in its proposed 2012 budget for Farmland infrastructure projects. That money is separate from the approximately $8 million that the city received access to via a trust fund to clean up the contaminated property. The city will issue debt for the $4 million in infrastructure improvements, with the hope that new businesses locating in the park will help retire that debt in the future.
• Planning alert, planning alert. I wanted to give you fair warning because I'm about to write about some planning and zoning regulations, which I know causes some of you to zone out. But, city commissioners at their meeting tonight will discuss regulations that could aid in the development of more apartments in the city. Commissioners are being asked to create new regulations for what are called Planned Development Overlay Districts. That's just a long name for a type of development that gets to have more flexibility in how it develops. (There is a planner somewhere cringing over that simplified explanation.)
In this case, Lawrence architect Paul Werner has asked for a change that would allow the overlay districts to be used on small pieces of property. Currently, they can only be used on 10 acres or more. Plus, Werner wants to change the rules on how many apartment units can be located in an overlay district. Currently, the rules treat all apartment units the same, regardless of whether they are four-bedroom units or one-bedroom units. For example, if your zoning says you can have 20 apartment units, you can have 20 four-bedroom units. But if you really wanted to build two-bedroom units instead, you would still be limited to 20 units. The result is that there is an incentive to build four-bedroom units. Werner, though, said that's not really how people want to live anymore, and he said an apartment complex full of four-bedroom units will have a different feel from a complex full of one- and two-bedroom units. So, he is proposing that one- and two-bedroom units be counted differently, perhaps as 0.5 of a unit. Whether that ends up being the number or whether the city chooses to count one-bedrooms as 0.4 of a unit and two bedrooms as 0.6 of a unit, well that is the fun that I'll get to have tonight. But you get the idea.
Also, expect some discussion about how the city can allow these overlay districts to be used on smaller properties, without opening up the possibility of redeveloping small lots in fairly traditional neighborhoods. The request is largely being driven by the desire to start redeveloping some properties in the Oread neighborhood, but technically the tool could be used all over the city. Also, expect some discussion about whether parking standards will need to be tweaked if the city changes how apartment units are counted.
• All right, everybody else can wake up now. We'll talk about puppies, kittens and other cuddly things. (Compete with that, planning.) I'm sure you remember the somewhat messy parting of company between the Lawrence Humane Society and former director Midge Grinstead in March. Well, just like a cat, Grinstead has landed on her feet. She confirmed to me that she has taken a job with the Humane Society of the United States. Grinstead started last month as its Kansas state director. That means Grinstead will get to help shelters across the state deal with technical issues. It also means she'll be spending a lot more time in Topeka lobbying legislators in regards to animal cruelty laws and other such issues.
"I'm excited about it," Grinstead said. "It is all the stuff I really loved doing in Lawrence. My job was always to serve Lawrence and Douglas County, but sometimes it was hard for me to not do outreach into other communities while I was there."
Grinstead recently just got back from Atchison and Doniphan counties where she was giving advice to folks on how to deal with animals that may have suffered from flooding. Who would have thought?
Copyright 2018 The Lawrence Journal-World. All rights reserved. This material may not be published, broadcast, rewritten or redistributed. We strive to uphold our values for every story published.