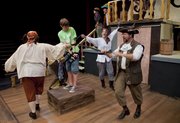 Past Event
When: Friday, July 15, 2011, 7:30 p.m.
Where: Theater Lawrence, 1501 New Hampshire St., Lawrence
-->
-->
Ahoy, matey! Shiver me timbers! Anyone can learn to speak like a pirate during a production of the whimsical musical "How I Became A Pirate" at Theatre Lawrence.
It is the story of a young boy named Jeremy Jacob who, while playing on the beach and daydreaming of pirates, is recruited by Captain Braid Beard and his rowdy band of buccaneers to bury a treasure chest. The musical was adapted from a children's book by writer Melinda Long and Caldecott Honor illustrator David Shannon.
Theatre Lawrence Executive Director Mary Doveton says when the script was sent to her, it seemed like the perfect summer show.
"It just looked like such fun," she says. "It's just pirates and entertainment.
"One of the pirates walks around with a stuffed parrot on his shoulder, and another one sings about what a sensitive guy he is."
Director Charles Goolsby says the show is not just for kids. There are plenty of jokes for adults in the audience, too, such as references to "Gilligan's Island." At one point the cast sings a portion of the 1960s television series' theme
Goolsby has been a director and actor for Theatre Lawrence for nearly six years, and "How I Became a Pirate" is the eighth play he has directed for the company. After reading the script, he decided to direct the musical.
"It is such a cool funny cute little play," he says. "They took lines from the book and made songs from the lines. At one point Jeremy Jacob asks Captain Braid Beard how he became a pirate, so there is a song about how he became a pirate."
Captain Braid Beard's first mate is Seymour Braunschwagger, played by Kelly Barker. Barker, a social studies teacher at Southwest Junior High School, says the show is perfect summer activity for families.
"[Audiences] will laugh like crazy," he says. "It is an absolutely hilarious show."
Barker says his favorite scene is when Jeremy Jacobs learns to speak like a pirate. "He just becomes fully pirate-ified," Barker says.
The play also has some sentimentality. After his adventures on the high seas, Jeremy is ready to be home with his family.
"The captain says, 'Even when you're a pirate you want to go back to your homeport,' so they sing a song about going back home and what home means," Goolsby says.
There will also be a costume contest before each performance. There are prizes, which remain a secret. The pirate crew has taken a "spit-handshake" oath of secrecy, Barker says.
Copyright 2018 The Lawrence Journal-World. All rights reserved. This material may not be published, broadcast, rewritten or redistributed. We strive to uphold our values for every story published.