It seems like summer just started, but retailers are already prepping for next season. Before shops fill up with fall clothing, check out a few hot fashion trends from the runways that you can start wearing now.
Bright pants:
Designers showcased bold-hued bottoms at Fall 2011 Fashion Week. Looks included cropped, high-waisted and flared versions, so pick the most flattering style for your frame. For a clean, sophisticated look, pair your bright pants with a monochrome, neutral-toned top. While the temperatures remain high, crop-tops, fitted T-shirts and tanks are perfect, casual options. Later, adjust this look for fall by adding a boyfriend blazer or a cozy, wide scarf.
Check out bright pants in Fall 2011 collections by 3.1Philip Lim and Karen Walker.
Colorful combos:
Although fall collections featured a variety of color palettes, a few combinations were repeated, indicating overarching color trends. Combinations like red and purple, turquoise and grey/green, and orange and deep, eggplanty purple are fun, new pairings to try out. If you're shy about wearing bold colors, keep the loudest color on the bottom, away from your face (for example, wear an eggplant blouse with an orange skirt below). Regardless of these new fall color combinations, one singular color stands out above the rest—a deep, rich, "Yves Klein" blue. The hue, named for its use in the works of artist Yves Klein, is bright, satisfying and refreshing. It has a regal feeling, and designers utilized fabrics in Yves Klein blue to create pants, skirts, blazers, jumpsuits — you name it. Wear clothing in this color from head to toe, or pair your Yves Klein blues with equally bold separates and clean white blouses.
See looks by Thakoon Fall 2011 and Derek Lam Fall 2011 for more styling ideas.
Calf-length skirts: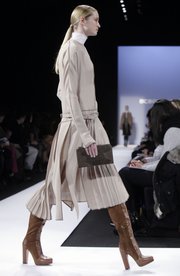 Recently, runway collections have been full of long, floor-grazing skirts and hemlines. Keep long looks cycling through your wardrobe, but start to integrate calf-length skirts for a bit of change this fall. Lightweight, calf-length skirts can feel more summery, especially in a bright colors, sporty graphic prints or floral designs. Once fall rolls around, calf-length skirts will be popular in basic colors, metallic hues, graphic prints and leather fabrics. And, for a saucy nighttime look, look for a skirt with a high, thigh-grazing slit.
Check out calf-length skirts in Fall 2011 collections by BCBG Maxazria, Marc Jacobs, Proenza Schouler, and see high skirt slits at Preen Fall 2011 and Jeremy Laing Fall 2011.
Copyright 2018 The Lawrence Journal-World. All rights reserved. This material may not be published, broadcast, rewritten or redistributed. We strive to uphold our values for every story published.