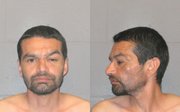 A 38-year-old Lawrence man who was convicted last month of a sex crime involving a child was arrested Monday as a burglary suspect.
Douglas County prosecutors Monday filed new burglary and theft charges against Alejandro Gutierrez Trevino after police arrested him in connection with a 2 a.m. garage burglary in the 1600 block of Rhode Island Street.
Trevino was convicted last month after entering a plea to attempted aggravated indecent solicitation of a child. He was accused of making an indecent solicitation to a 12-year-old girl April 6 in the 1300 block of Prospect Avenue. He was out on bond, awaiting sentencing in that case in which he faces 11 months to 34 months in prison, although he could qualify for probation.
Sgt. Matt Sarna, a Lawrence police spokesman, said officers were called after 2 a.m. to the 1600 block of Rhode Island, and a 36-year-old woman alleged someone had broken into her garage and also entered her vehicle in the garage. Officers searched the area and later arrested Trevino, who also had two Lawrence Municipal Court traffic warrants out for his arrest.
Prosecutors Monday said a judge had issued an order revoking Trevino's bond in the sex crime case, and James George, Douglas County's pro-tem judge, agreed to set Trevino's bond at $25,000, cash or surety, in the burglary case.
Copyright 2018 The Lawrence Journal-World. All rights reserved. This material may not be published, broadcast, rewritten or redistributed. We strive to uphold our values for every story published.