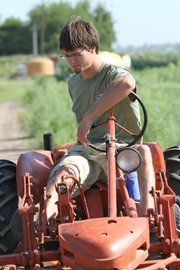 It wasn't exactly a thing of Frankenstein-type proportions, but Will Pendleton can say he brought an inanimate object to life.
This summer, the 20-year-old, who just finished his sophomore year at Kansas State, put the skills he's learned while studying mechanical engineering to a very practical, yet modern, test. He converted a dead gas-powered tractor to electric and got it back into the fields.
"This has been my summer project so far," he says from behind the steering wheel of a bright orange 1949 Allis Chalmers "G" tractor. "It's been broken down for the last several years, and it's nice to finally get it back and working for the farm."
The tractor had been a hard worker on Pendleton's family farm for more than 25 years, but eventually it wore down until it finally landed at the fix-it shop with a cracked engine block. But, because of its antique nature, the replacement parts for the tractor weren't cost-effective.
"Being an antique, we really couldn't find parts to replace it," says Will's mother, Karen Pendleton. "You'd have to buy another tractor that had a good engine put on it, but the antique value of them is so high that that really wasn't feasible."
The Internet turned up the tale of a farmer in New York who received a Sustainable Agriculture Research & Education grant from the USDA to convert his "G" tractor from gas to electric. The farmer figured it out and posted the directions on the Web for other farmers to use.
The Pendleton family consulted with Roger Rieder at Automotive Electrical Service in Lawrence and ordered the parts needed to convert it. By the time Will Pendleton had returned home from school for the summer, the parts were ready, and so was he. It took him weeks, but, eventually, the tractor roared to life.
"This is really the first project that I've been able to apply (school knowledge to), other than just basic knowledge of physics and things like that in everyday life," Pendleton says. "Most of the things I was able to apply (involved) the electrical aspects of it. Make sure things weren't hooked up wrong — people would get hurt — and things like that. What seems to be common sense to me now may not have been earlier."
Though, like with many projects, this one seems to be ongoing. Pendleton says he keeps making adjustments to up the tractor's safety factor.
"We just installed this light recently because we noticed when you had it on, you couldn't hear it, and so you turn it on and now we have a little light that indicates that it's on," he says, pointing to a red light mounted on the steering column. "It reminds us to turn it off."
The tractor's 48-volt system plugs into a charger that in turn plugs into a wall. It charges at night and then hits the fields in the day.
"It's good to charge it every night. We work it enough to where it drains down the battery enough," he says. "Every other night would be fine, but you don't want to get stranded out in the field with it."
Karen Pendleton says she's not exactly sure what all that charging will do to the farm's electric bill.
"I wouldn't think it would be that much, though, because we're charging stuff all the time," she says.
And what the farm's getting in return is pretty good — new life for a piece of equipment that had nearly been junked.
"What I'm amazed at with this electric tractor, though, is that I think of an electric tractor, run on just batteries, as kind of a wimpy little machine," Karen Pendleton says. "And it has the same amount of power as it did when it was a gasoline engine. So, you don't have to go out there and worry about (how) you can't do much with this machine."
— Staff writer Sarah Henning can be reached at 832-7187.
Copyright 2018 The Lawrence Journal-World. All rights reserved. This material may not be published, broadcast, rewritten or redistributed. We strive to uphold our values for every story published.