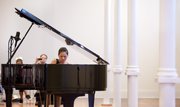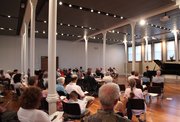 You could hear a pin drop in the acoustically pleasing Spooner Hall auditorium Sunday as 13-year-old Chaeyoung Park stepped up to the piano and took a bow to a preset ovation.
Chaeyoung was one of six finalists at the International Institute for Young Musicians International Piano Competition that featured pianists from all over the globe.
In her 35-minute set, Chaeyoung, a South Korean native now living in Lawrence, teased the crowd with inspired, passionate melodies, followed by more subdued play.
The soon-to-be ninth-grader at Veritas Christian School was excited, yet humble and a little nervous, at her chance to play in front of about 100 piano lovers.
"I'm glad it's over," said a relieved Chaeyoung after her set. For her, the goal was simply to make the finals.
The first-place crown at the event went to Anna Han from Arizona, followed by a second-place tie between Jonathan Mamora of California, and Yangmingtian Zhao, from Singapore.
Zhao is KU bound in the fall, and he wowed the crowd with his performance, taking the Audience Prize.
The competition was a warm-up to the International Institute for Young Musicians Summer Music Academy, kicking off today. The academy trains 75 music students from all over the world through July 29. The academy also offers numerous opportunities for the public to see the young musicians in action, with recitals and shows scattered throughout the academy.
"It's an amazing group of students," said academy organizer and KU School of Music professor Scott McBride Smith. "This is paradise" for music lovers.
The training offers students a chance to hone their skills — skills that they've been working on for countless hours in preparation.
For instance, Chaeyoung said she keeps her piano practice light when in school, three to four hours a night. But when she's getting ready for a competition like Sunday's, she increases the workload, sometimes practicing eight to 10 hours per day.
That type of dedication and ability is typical from the students at the academy, said McBride Smith.
"It's always talented," he said.
Copyright 2018 The Lawrence Journal-World. All rights reserved. This material may not be published, broadcast, rewritten or redistributed. We strive to uphold our values for every story published.