Here are some ideas to help your summer days fly by:
TEAM PARTIES
• Visit the Negro League Baseball Museum in Kansas City, Mo. Find more here.
• Attend a T-Bones game at the CommunityAmerica Ball Park located across from the Legends in Kansas City, Kan. To learn more about the T-Bones (2008 Northern League Champions) group rates, party packages and upcoming events, go here.

• Tracy Ford-Stacey, Lawrence resident and mother of two Lawrence youth athletes, suggests having a kickball game between parents and the players.
"If the kids lose they wash cars," she says.
Ford-Stacey did not have a suggestion if the parents lose, because "that's not going to happen!"
• Jean Anderson, Lawrence resident and mother of two Lawrence youth athletes, shared a cool way to have fun with kids: block ice sliding. Contact an area ice dealer or large store retailer for availability and pricing.
• Another option is for each team member to make their own ice block using a large square container and freezing a few days in advance. Use pot holders and towels for gripping the ice blocks while sliding. Dad Perry Park on Monterey Way has a great hill for ice sliding. After sliding, head over to the sand volleyball court for a few matches between parents and players.
• Host a cookout and create a parent versus player trivia game with questions formed from the parents' and kids' generation. Trivia questions might also include fun facts about the coaches, players and the team's season. For example, "What is coach's favorite sunflower seed flavor?" "What is coach's favorite drink during practice, games or meets?" or "How many homeruns did the team score during the season?"

• Set up a backyard or driveway movie theater. This will require a LCD or DLP projector and a large bed sheet.
PICK BERRIES (OR JUST BAKE WITH THEM)
Celebrate National Blueberry Month by picking blueberries with family, friends or your social organization. Visit here to discover area Kansas farms for blueberry picking.
• If you don't have time to go pick, then purchase blueberries at a local grocery store and re-create Free State High junior Andrew Pester's Blueberry Cheesecake.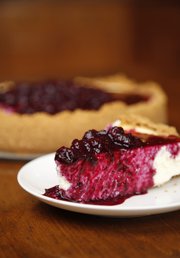 Blueberry Cheesecake
Ingredients:
2 1/2 cups graham crackers
1 stick salted butter
1 teaspoon ground cinnamon
1 pint blueberries
1 stick cinnamon
Juice and zest of 1 lemon
16 (2 8-ounce pack) cream cheese at room temperature
11 ounces goat cheese at room temperature
4 eggs
1 cup sugar
1 pint sour cream
2 lemons zested
1 teaspoon vanilla
For the crust:
Grease a 10-inch spring form pan.
In a food processor, pulse the graham crackers into crumbs. Meanwhile, melt the stick of butter. Continue to heat until browned. Make sure to swirl the butter to brown evenly. Combine the graham crackers, browned butter and cinnamon. When the graham cracker crumbs are all moist, put the mixture in the spring form pan. Form a crust with your hands or a measuring cup by pressing the mixture up the sides and covering the bottom. Chill until ready to use.
For the filling:
Preheat oven to 350 degrees.
In a stand mixer, combine the cheeses and mix on low until smooth and combined. With the mixer still running, add the eggs one at time. Add the sugar, then sour cream. Then add the lemon zest and vanilla.
Pour mixture into the crust. In another pan, pour in an inch of hot water. This prevents cracking and provides moisture. Place both pans in the oven, the cheesecake above the water. Cook for 40 minutes.
Then turn off the oven and let the cake stand in the oven for an hour. Remove and cool. Chill in the refrigerator (overnight is best).
For the topping:
Over medium heat, combine blueberries, cinnamon stick, juice and zest. Cook for 10 minutes. If the released liquid has not thickened slightly, continue cooking. Chill the finished product. Place the topping on the cheesecake. Enjoy!
WORK OUT LIKE RED DOG
"Dog Days" are the hottest days of summer, which typically bark loudly between July and August. According to Wikipedia, the term Dog Days "comes from the ancient belief that Sirius, also called the Dog Star, in close proximity to the sun was responsible for the hot weather."
Don "Red Dog" Gardner, local fitness guru and former McGruff the Crime Dog for the Lawrence Police Department from 1986-1990, has offered a few tips to prepare you for hot weather training:
• "Arrive to your workout with the air conditioner off and the windows down," he says. "It is best not to go from the cold car to the extreme heat. Have your body ready for the temperature adjustment."
• "Drink plenty of fluids, all day and every day. Even I need to do a better job at this."
• "Warm your body up before beginning your exercise," Gardner says. "Move around, stretch or even roll around on the ground. Just get your body and muscles ready to move. Also, stretch after your workout session."
• "Know your limits. Take it easy if you are feeling tired. If you are starting out with an exercise program, get a check-up with your doctor. Also, work out with a partner or let your family and friends know where you are headed to."
• "Wear clothing that wicks away the sweat and keeps you cool. Wear a hat and take fluids with you."
• "Most of all, have fun working out."
Get more info about Red Dog's Dog Days on their website.
HOST A TOUR DE FRANCE
• Map out a bike route around Lawrence.

• Sign up for an upcoming local cycling event. A good source is the Lawrence Bicycle Club here.
• Enjoy this sandwich from Free State Brewery Executive Chef Rick Martin:
Summer French Picnic Sandwich:
1 fresh baguette (Wheatfield's Bakery)
12 ounces baked local ham or sliced deli ham (Steve's Meat Market, DeSoto)
1 tart green apple, cored and sliced into thin circles (The Merc)
3 ounces crumbled blue cheese (Bleu d'Auvergne or Maytag Blue, The Merc)
3 ounces honey mustard dressing
Homemade Honey Mustard Dressing
1 ounce local honey
1 ounce smooth Dijon mustard (Maille Dijon, The Merc)
1 ounce mayonnaise
Mix til smooth
Directions:
Cut baguette lengthwise into a top and bottom piece. Place ham evenly over the bottom piece of baguette, then layer with apple slices and blue cheese. Wrap tightly with foil. Place in a 250-degree oven for 10 minutes. Cut into individual portions and pack away for any summer picnic event. Drizzle with honey mustard before serving/ Pair with Free State Wheat State Golden, Hop Jack Ale or any Bier de Garde or Saison.
MAKE A SUMMER PLAYLIST
Song suggestions:
• "Summer Breeze" —Seals and Crofts
• "Summer of 69" —Bryan Adams
• "Summer Lovin'" — Grease Soundtrack
• "Summertime" — DJ Jazzy Jeff and Fresh Prince
• "Summer in the City" — The Lovin' Spoonful
• "Boys of Summer" — Don Henley
• "Walking on Sunshine" — Katrina and the Waves
• "Soak up the Sun" — Sheryl Crow
• "Vacation" — Go Go's
HOLIDAY SHOP
• Attend the Lawrence Downtown Sidewalk Sale on July 21 by yourself or with a group of friends.
• Start off by riding a Lawrence Transit bus for free from 6 a.m. to 8 p.m. that day — see details here.
• Save time and money. Bring your own reusable shopping bags.
• Search out bargains for those special people on your holiday shopping list.
• Beat the heat and host a Christmas in July Party with family or friends. Make cookies, exchange recipes, play holiday music and conclude the fun with a white elephant gift exchange with a new or used item.

• Begin making holiday travel plans.

• Order holiday cards now with a summer picture of the kids or family. Order festive holiday return labels as well.
Copyright 2018 The Lawrence Journal-World. All rights reserved. This material may not be published, broadcast, rewritten or redistributed. We strive to uphold our values for every story published.