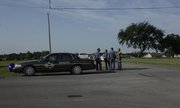 Bicycle Accident
A 13-year-old Maple Hill girl was transported to an area hospital with critical injuries after being hit while riding her bicycle near the intersection of East 1500 Road and North 1100 Road, south of Lawrence.
Kansas State Trooper Casey Simoneau identified the girl as Mikal Bond. Emergency crews on the scene reported that the girl was unconscious when they arrived.
The accident happened about 7:30 a.m. Sunday on East 1500 Road, which is Haskell Road in the city of Lawrence, between the Wakarusa River and County Road 458.
Simoneau said the collision occurred when the girl, traveling east on North 1100 Road, failed to stop at the stop sign and collided with a white Ford pickup truck, traveling south on East 1500 Road. The pickup was driven by Kathy Robb, 46, of Melvern. Both she and the other passenger in the truck, 19-year-old Kyle Robb, also of Melvern, were not injured in the accident, according to a report from the Kansas Highway Patrol.
A LifeStar helicopter was called to the scene and transported the girl at about 8 a.m. to Children's Mercy Hospital in Kansas City, Mo. However, a spokeswoman for the hospital said the girl was not listed as a patient at the hospital. As of 5:30 p.m., the Journal-World was not able to confirm which hospital the girl was at, or what her current status is.
The girl was riding Sunday morning as part of the Lizard Under the Skillet bike ride organized by the Lawrence Bicycle Club. As emergency crews cleared the roadway, dozens of other bicyclists rode by asking about what happened.
Lee Merrill, president of the club, said news of the accident has affected the riders.
"The whole club has their thoughts and prayers with the family," he said. "We hope for a speedy recovery.
Check LJWorld.com for updates.
Copyright 2018 The Lawrence Journal-World. All rights reserved. This material may not be published, broadcast, rewritten or redistributed. We strive to uphold our values for every story published.