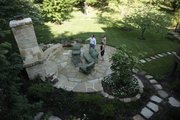 Garden design is truly an art, and east Lawrence resident Shari Head is a talented artist. Despite a limited amount of space in both front and back yards, Head has painted a picture with unique focal points and season-long color.
My favorite is a green and white variegated shrub that greets visitors at the curb. I believe it is Variegated Mountain Fleece (Fallopia japonica "Variegata") although it is the only one I have ever seen growing in a landscape.
Past the speckled leaves of the uncommon shrub is a path that draws the eye to the picturesque backyard. Familiar hostas, coral bells and liriope line the path and lead to a gate and arbor. Amongst them is a variegated ornamental grass, unusual in the shade, that neither Head nor I could positively identify.
Through the arbor, the back yard is the real masterpiece. The space is partially shaded by the neighbors' Sugar maple and hackberry, and power lines run through one side. Still, Head has found space for lots of plants, a small fish pond, a seating area, paths and a garden shed that seems a perfect extension to the garden itself.
Head tells me that the garden is really a memorial to her twin sister, who was the "real" gardener.
"When I bought the house, there was nothing back here. Five dogs had been in here," Head tells me. "I wanted to create something for her."
Like all gardens, Head's back yard has evolved as she learned more about plants. She admits to having to move plants to get the right combination of light, soil and water.
"Sometimes when you plant something, you might be mowing it the next year," she jokingly warns. "You find out what works and what doesn't work."
What has worked is a combination of shrubs, ornamental grasses and perennial flowers. Since most of the space is filled (less room for weeds), the garden takes less work now than it did in the early years. Head's son, David, does help her, though, especially with the big projects.
Head does use a few brightly colored annuals to add color from strategically placed containers. Bright variegated coleus with ruffly leaves accent the other plants. Lantana, Head's favorite plant, is tucked into nearly every empty space.  
In addition to the aforementioned plants, Head has a few others that I rarely see in the home landscape. They are:
• Joe Pye weed — a tall native perennial that is topped with a pinkish-purple flower from late summer to fall.
• Crape myrtle — a southern shrub that often dies to the ground in our region and has brilliantly-colored blooms in the fall.
• Purple ninebark — a deeply colored large shrub that tolerates shade.
There is also a variety of sedum that I have not seen before, tucked in amongst several that are familiar.
Coral bells in mixed hues of green, yellow and purple line one side of the brick red path, while ornamental grasses fringe the opposite edge.
"I think you change things a little every year," Head says. This year's addition was a patio where she has placed Adirondack chairs and a sun umbrella.
"It's a nice place to come out in the morning and sit, and it is a few less flowers to tend to." Head can also watch the fish in the close-by pond.
Copyright 2017 The Lawrence Journal-World. All rights reserved. This material may not be published, broadcast, rewritten or redistributed. We strive to uphold our values for every story published.