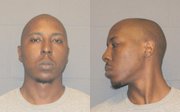 Douglas County prosecutors filed four child abuse charges against a 30-year-old Lawrence man Friday after he was accused of abusing two boys, ages 14 and 12, on Wednesday.
Sgt. Matt Sarna, a Lawrence police spokesman, said the boys' grandmother called police Thursday and alleged the man, Stanley E. Burleson, physically abused and threatened them in a residence in south-central Lawrence one day earlier. According to court records, prosecutors accuse Burleson of "cruelly beating" the two boys.
The boys suffered injuries that did not appear to be life-threatening and were taken into protective custody, Sarna said. Officers interviewed the male suspect, who is the boyfriend of the boys' mother, and arrested him early Friday.
Police also arrested the boys' mother Friday evening on child abuse charges, according to jail records.
During Burleson's first appearance Friday afternoon, Chief District Judge Robert Fairchild set bond at $30,000, cash or surety, and ordered him to have no contact with the boys or other non-law enforcement witnesses if he gets out of jail.
Copyright 2018 The Lawrence Journal-World. All rights reserved. This material may not be published, broadcast, rewritten or redistributed. We strive to uphold our values for every story published.