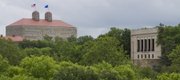 Subscribe to the email edition of Heard on the Hill and we'll deliver you the latest KU news and notes every weekday at noon.
Your daily dose of news, notes and links from around Kansas University.
• KU's Spencer Research Library is the beneficiary of a collection of books, papers, manuscripts and correspondence from science fiction writer Theodore Sturgeon.
The collection is valued at more than $600,000.
The gift is from the Theodore Sturgeon Literary Trust, of which Sturgeon's daughter, Noël Sturgeon, is the trustee.
Sturgeon, who died in 1985, won many awards throughout his career.
Gene Roddenberry, the creator of "Star Trek," credited Sturgeon, along with Leonard Nimoy, with inventing the Vulcan phrase "Live long and prosper."
He was also the inspiration behind author Kurt Vonnegut's fiction writer character named Kilgore Trout.
He is also the man behind "Sturgeon's Law," which states "Ninety percent of everything is crap," and the credo "Ask the next question."
Sounds like an interesting fellow, to be sure.
• After spotting my article about KU honorary degrees in which I said the university would award honorary degrees for "what's believed to be the first time," an astute tipster wrote in and said that, actually, John J. McCook received an honorary law degree from KU in 1890, when he spoke at commencement.
Here's an article that examines a bit about the rather interesting fellow and his KU connection — though it doesn't mention the honorary degree.
McCook Drive, near KU's Memorial Stadium, is named for him (though my tipster said the sign has been missing recently), as was the university's first football field.
The tipster said the honorary degree is mentioned in a Who's Who of the period, and again in an edition of "The Key," a publication of Phi Beta Kappa.
Anyone know more about this?
• Here's an interesting story about Prarthana Dalal, a recent high school graduate in Kansas City who had a connection with a KU Medical Center professor.
She showed some interest in science competitions, and Kenneth Peterson, the professor, judged an oral report she gave in the eighth grade, and then gave her a card and told her to call him if she had an interest in working in a research lab.
She did.
Recently, Dalal, 17, won an international science competition with this project:
"Modeling of human non-deletional hereditary persistence of fetal hemoglobin (HPFH) conditions in â-globin locus transgenic mouse models: The -175 (T to C) and -195 (C to G) A-gamma globin gene point mutations."
I think I understood the word "of," and not a lot else …
• Kilgore Trout would totally submit a tip for Heard on the Hill, so you should, too. All you have to do is send me an email at ahyland@ljworld.com.
Copyright 2018 The Lawrence Journal-World. All rights reserved. This material may not be published, broadcast, rewritten or redistributed. We strive to uphold our values for every story published.