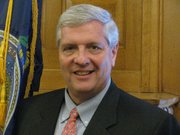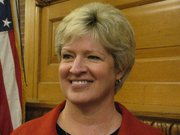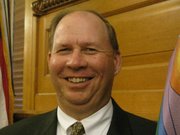 Do regents members receive pay?
Board members acting in an official and authorized capacity as a Board of Regents member may claim compensation ($88.66 per day), subsistence ($123 per day) and mileage reimbursement (51 cents per mile). This will include board meetings, official campus visits scheduled for the board, board chair assigned university commencements, and other meetings and events where the Board attends as a group, or where a specific member has been designated by the board or board chair to represent the Board.
Gov. Sam Brownback on Friday made three appointments to the Kansas Board of Regents and said he wants to see improvements in the higher education system.
"I think in the United States, if you're going to walk out on the field, you better aspire to be the top at it, or it's questionable whether you ought to walk out on that field," Brownback said.
He said that means higher education institutions in Kansas will need to jettison programs that aren't attracting students so that the schools can concentrate their resources in priority areas.

"We've got to make the best use of resources," Brownback said, adding that he knows schools are continually analyzing programs.
In his first appointments to the regents, Brownback picked Fred Logan Jr., an attorney from Leawood and former Kansas Republican Party chairman; Robba Addison Moran, who has worked as a law associate and is the wife of U.S. Sen. Jerry Moran, R-Kan.; and Kenny Wilk, a former high-ranking House member from Lansing who was chairman of Brownback's transition team.
Brownback said his choices for the board are among the most important he will make because the regents will play a key role in helping improve the Kansas economy.
The appointments are subject to Senate confirmation when the Legislature returns in January, but in the meantime they will be able to serve.
Brownback also dismissed a pending proposal before the Legislature to amend the Kansas Constitution to do away with the regents and State Board of Education and replace them with a Cabinet secretary position.
"We're proceeding with what we have here. I think we can work well with the regents system, and my focus is going to be at getting excellence at our education and our regents systems," he said.
The nine-member board is the governing board of the state's six public universities, including Kansas University, and the coordinating board for the state's 32 public higher education institutions.
This includes seven public universities, 19 community colleges and six technical colleges.
Terms have ended for Jarold "Jerry" Boettcher of Manhattan; Richard Hedges of Fort Scott and Gary Sherrer of Overland Park. Sherrer had resigned in May. Each was appointed by former Gov. Kathleen Sebelius, a Democrat.
The three appointees praised the state's higher education institutions but also vowed to work to make them better.
"We need to get from good to excellent," said Moran. She also said the state needs to focus more on technical colleges. "We need to be sure we have a workforce that is capable of using their hands as well as they minds."
Because of dwindling tax funds, state funding to higher education was cut the previous two fiscal years by $100 million, or 12 percent. Recently, tuition overtook general funding as the major source of funding at universities for the first time in state history.
Brownback's budget proposal kept higher education funding level for the current fiscal year. In addition, he signed into law initiatives to increase engineering graduates at Kansas University, Kansas State and Wichita State.
Wilk, who chaired both the House tax and appropriations committees during his 16 years in the Legislature, said he saw more potential for schools to raise money from private sources if they show improvement.
"Something that Kansas is blessed with — tremendously blessed with — is philanthropic money. When we get things right, I think you'll see that philanthropic money continue to increase," he said.
Logan, who has served on the Johnson County Community College board of trustees, said Brownback was calling for excellence and not down-playing liberal arts.
"There will even be room for poets," Logan said. "Excellence is not a narrow thing."
Copyright 2018 The Lawrence Journal-World. All rights reserved. This material may not be published, broadcast, rewritten or redistributed. We strive to uphold our values for every story published.