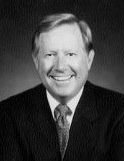 Friends and colleagues of Phil Harrison, the former Lawrence real estate and insurance executive, said this week that he approached each of his many interests with passion and enthusiasm.
"He was just so intimately involved with this community," said Janet Campbell, general manager of Kansas Public Radio.
Harrison, 68, died June 29 at a hospital in Scottsdale, Ariz., after a long illness, said his wife, Beth Harrison. Memorial services will be 11 a.m. Wednesday at Plymouth Congregational Church in Lawrence.
Harrison grew up in Lawrence and graduated from high school at Culver Military Academy in Indiana in 1961 before earning his bachelor's degree from Kansas University in 1965. After attending graduate school in Indiana and working, he returned to Lawrence in 1972 to join his father, Robert, and became vice president of the Gill Real Estate Agency until the business was sold in 1995.
"He was a good real estate broker, very honest and very reputable," said Bob Stephens, board chairman and owner of Stephen Real Estate. "He was very supportive of the city. He liked people, and they liked him."
He also served on the Culver Education Foundation for his military school.
Nelson Krueger, a Lawrence pilot, first met Harrison in 1969 when Krueger bought his first home in Lawrence, but the men became close friends through another one a Harrison's interests — flying. Harrison was also a leader for several years in the Cessna Cardinal Club and traveled across the country.
"He was a very enthusiastic, positive, upbeat person," Krueger said. "There are few people who loved to fly more than Phil Harrison, and he was a good pilot."
His enthusiasm showed through "infectious laughter" at a young age, said Patty McGrew, of McGrew Real Estate, who remembers seeing him in the halls at school when they were growing up.
And he carried his upbeat personality throughout his life, she said. Music was important to Beth, a retired McLouth music educator and band director, and the Harrisons have been major supporters of Kansas Public Radio. KPR used a gift in 2008 to purchase a Steinway piano for live radio performances, and Harrison would also talk on the radio during fundraisers and match donations as a challenge, Campbell said.
Two participants in the International Institute of Young Musicians competition, Chaeyoung Park, 13, and Luke Rhodes, 18, played the Steinway live on the air Wednesday morning and dedicated their performances to Harrison.
"He had such a motivating style, and he obviously was very passionate about what he was doing," Campbell said. "He was a real treasure here. He's going to be missed."
Copyright 2018 The Lawrence Journal-World. All rights reserved. This material may not be published, broadcast, rewritten or redistributed. We strive to uphold our values for every story published.