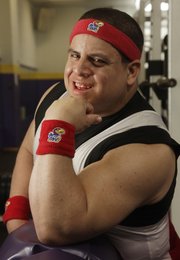 Lawrence's accomplished Special Olympian Brady Tanner can add another title to his list of achievements: world champion.
Tanner, a powerlifter, traveled to Athens to compete in this year's world games and took home the gold in the dead lift, lifting 522.5 pounds; gold in the bench press, lifting 335.5 pounds; and silver in the squat, lifting 495 pounds.
He also earned another gold medal for his combined total in all three categories, which equaled 1,353 pounds.
Danny Lenz, a program coordinator for Special Olympics of Douglas County, said he had heard from Tanner's relatives, who were traveling in Greece, and said they were "just ecstatic."
"Brady is the happiest person I've ever met in my life," Lenz said of the athlete, who frequently jokes around with coaches and teammates. "But then he gets into powerlifting mode, and I've never seen anyone more focused or serious, either."
Members of the public can greet Tanner as he arrives home from Greece on Wednesday at Kansas City International Airport. He is scheduled to arrive with his Kansas and Missouri teammates at 11:30 a.m. on Southwest Flight No. 3751.
Lenz said he was planning a separate welcome-home celebration for Tanner in Lawrence, but the details hadn't yet been set.
Donna Zimmerman, senior vice president of communications for Special Olympics Kansas, said Tanner represented Team USA well.
"We're just delighted with how the Kansas delegates performed," at the world games, she said.
Copyright 2018 The Lawrence Journal-World. All rights reserved. This material may not be published, broadcast, rewritten or redistributed. We strive to uphold our values for every story published.