Photo Gallery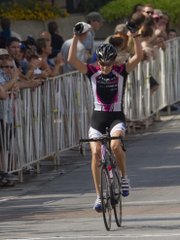 2011 Tour of Lawrence: Sunday, July 3
Photo Gallery
2011 Tour of Lawrence kids bike races
With just three laps to go in the men's professional downtown criterium on Sunday, five cyclists from Elbowz Racing appeared to be in complete control.
Those riders, all wearing blue and white jerseys, held the top five spots and looked organized enough to hold off challengers.
Brad Huff, sitting just behind the blue and white single-file line, wasn't concerned.
After all, Huff had been working with the Elbowz riders for most of the afternoon, alerting them when other teams were making an attack.
On the final lap, Huff slowly moved up through the lead group. He jumped into second place with two turns to go and was able to burn it to the finish line, securing the victory in his first Tour of Lawrence.
He had planned all along to help the riders from Elbowz, but he never thought he would seize the lead.
"I never really wanted to take over from them" said Huff, who resides in Springfield, Mo. "I was just trying to help them."
Huff, representing Jelly Belly presented by Kenda, finished the race in 1:15:49.6, just ahead of Super Squadra's Christopher Haga, who finished in 1:15:49.9.
Elbowz Racing fell off the pace in the final lap. Tyler Jewell was the team's best finisher, taking third.
Sunday was a dream day for Mike and Gwen Inglis from Golden, Colo.
They each won a race and together celebrated their third wedding anniversary.
Mike squeaked by Robert Cummings at the finish line to secure the Masters 40-plus title, and Gwen opened up a big late lead to take the women's professional title.
On the drive to Lawrence from Kansas City on Sunday morning, the couple talked about how the day would be perfect if they could both make the top three in their races.
They did a little better than just make the top three.
"We dreamt about it, but we didn't really know if we could make it happen," Gwen said.
Mike was all smiles after the race, snapping pictures of Gwen on the top of the podium.
"Hey, our little saying is, 'If you're gonna dream, dream big,'" Mike said.
There were only eight racers in the women's professional race, limiting some strategy in the first few laps. Only two teammates raced together, forcing the individual riders to attack on their own.
Gwen made her move with two laps to go, snagging a 30-second lead heading into the final lap.
She held the pace on the last lap and cruised to the victory.
Sunday's race concluded the Tour of Lawrence. After the race announcer interviewed Huff over the loudspeaker, Huff grabbed the microphone and thanked the crowd for a stellar weekend.
He enjoyed all three events: the street sprints, the Kansas University campus circuit and the downtown criterium.
"It takes a large community to put on a great race like this," Huff said. "Having a race on campus is just exceptional. It showcases Lawrence really well."
Sunday's Tour of Lawrence results
Men Category 5: 1. Keith Guilford, 19:37.3; 2. Don Schaeffer, 19:37.3; 3. Paul Aldeguier, 19:37.5; 4. Jeff Baker, 19:38.1; 5. Lee Merrill, 19:38.1.
Men Category 4/5: 1. Reimund Manneck, GP VeloTek, 24:25.1; 2. Jacob Cauble, Tailwind Cyclists, 24:27.8; 3. Michael Rost, GP VeloTek, 24:28.1; 4. Andrew Zens, Rhythm Racing, 24:28.3; 5. Matt Childs, GP VeloTek, 24:28.8.
Master 40+: 1. Mike Inglis, Team Pararescue, 41:39.9; 2. Robert Cummings, Team Monster Energy, 41:40.0; 3. Tracy Smith, Mesa Cycles Racing Team, 41:43.0; 4. Stephen Songer, 360 Racing, 41:43.4; 5. Andy Lucas, 360 Racing, 41:43.7.
Women Category 3/4: 1. Ashlee Dethemeny, Cannonball Hub Racing Team, 38:31.9; 2. Rebekah Dilley, Allegent Healthcare, 38:32.1; 3. Renae Weaver, Free State Racing, 38:32.2; 4. Carol Kauder, Rocky Mountain/IZZE, 38:33.8; 5. Venasa Ray, Colavita/Parisi Kansas City, 38:33.8.
Men Category 4: 1. Alex Roberts, Primal presented by First Bank, 38:48.1; 2. Grayson Warrior, Colavita/Parisi Kansas City, 38:49.3; 3. Brandon O'Neal, Off the Front Racing, 38:51.6; 4. Andrew Zens, Rhythm Racing, 38:52.4; 5. Rob Swanson, Team Kaos, 38:52.9.
Women Pro/1/2: 1. Gwen Inglis, Trends.com/DFT, 50:14.9; 2. Carrie Cash Wooten, Pedal the Cause/Team Revolution, 50:39.4; 3. Catherine Walberg, Team Kenda, 50:39.6; 4. Lauren Robertson, FCS Cycling Club, 50:40.1; 5. Bianca Bergman, Texas Roadhouse Cycling Team, 50:40.2.
Men Category 3: 1. Chris Miller, Cannonball Hub Racing Team, 49:29.8; 2. Jason Wulff, CBC, 49:29.9; 3. Kevin Boje, Team Body Sync, 49:31.0; 4. Lucas Marshall, Midwest Cycling Community, 49:31.1; 5. Nick Hand, 708 Racing, 49:31.3.
Men Pro/1/2: 1. Brad Huff, Jelly Belly presented by Kenda, 1:15:49.6; 2. Christopher Haga, Super Squadra, 1:15:49.9; 3. Tyler Jewell, Metro Volkswagon Cycling Team/Elbowz Racing, 1:15:49.9; 4. Joshua Carter, Aerocat Cycling Team, 1:15:50.1; 5. Joe Schmalz, Elbowz Racing, 1:15:50.1
Copyright 2018 The Lawrence Journal-World. All rights reserved. This material may not be published, broadcast, rewritten or redistributed. We strive to uphold our values for every story published.