Continued from last week's column, Resort 2012 Fashion Coverage is in full swing. These designers showcase incredibly distinct collections. From Diane von Furstenberg's edgy, modern separates to Jason Wu's preppy, crisp pieces, read on for show details and inspiration to create your own, personalized resort look.
Diane von Furstenberg:
This resort collection is incredibly modern, youthful and just looks easy — the way a resort style should be. Sunglass-clad models wore loose-fit jumpsuits, slouchy tops exposing jet-black bras, baggy pants and simple, DVF-style tank dresses, for which the designer is known. Bright neon attire was set amidst a sea of blacks, greys and neutrals to calm their vibe. Interestingly, some of DVF's pleat-work reminded me of Reed Krakoff's spiky-yet-feminine pleats in his own resort collection. For a DVF resort-inspired outfit, pick out comfortable pieces, bright tanks and neutral outer layers, like grey boyfriend blazers, navy anoraks and black long-sleeve jackets. And don't be afraid to mix and match prints from head-to-toe.
Jason Wu: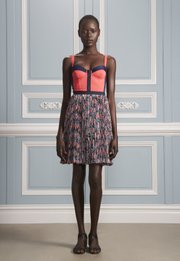 Jason Wu's resort collection is feminine, sophisticated and sporty-chic. Outfits that graced the runway included patterned shorts styled with polos layered beneath crew-neck short-sleeve knits, patterned dresses with sporty, waist-defining fabric strips, and navy cropped trousers with lace tops. Wu's resort collection is definitely more ideal for the urbanite's vacation. The designer introduced swimwear into his resort collection, too; pieces were scuba-inspired, with large neon piping and color-block details. To get Wu's resort style, pair black or patterned shorts with a collared, button-up shirt and blazer, or wear a bustier-style top with a monochrome skirt. Keep lines clean and patterns balanced with un-busy, bold separates.
Copyright 2018 The Lawrence Journal-World. All rights reserved. This material may not be published, broadcast, rewritten or redistributed. We strive to uphold our values for every story published.