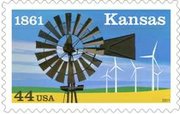 The State of Kansas celebrated its sesquicentennial (that's a fancy word for "150th birthday") on January 29, 2011. LJWorld.com has compiled a collection of stories, photos and documents about Kansas history from the Lawrence Journal-World and the Wichita Eagle.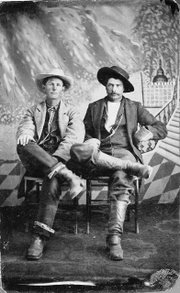 -->
Top lawmen
The Mastersons -- Ed, Bat and Jim
Three of the most famous lawmen of the Old West claimed Sedgwick County as their home.
The Masterson family came to Wichita from Illinois in 1870 and lived on 80 acres near Sunnydale, 14 miles northeast of Wichita. Three of Thomas and Catherine Masterson's sons — Ed, William "Bat" and Jim — became Old West legends.
William Masterson was almost always referred to as Bat. Some Western historians say he earned his nickname by using a cane. But Henry Raymond, a friend of the Masterson brothers, wrote in his journal that Bat's middle name was Bartholomew, shortened to "Bart" and then, "Bat."
All three brothers figured prominently as lawmen in Dodge City's cowtown days.
Ed was the city marshal until he was killed by a cowboy on April 9, 1878.
At the time, Bat was sheriff of Ford County and Jim was a deputy sheriff. One year later, Jim was city marshal of Dodge City.
Wyatt Earp
Hollywood may have billed Wyatt Earp as the fast-shooting, peace-loving lawman who tamed the Wild West, but his days in 1875 as a police officer in Wichita were spent rounding up stray dogs and picking up dead animals.
Earp was fired and moved on to Dodge City. In 1881, he and his two brothers, Virgil and Morgan, and John Henry "Doc" Holliday shot it out with Ike Clanton's gang in the gunfight at the OK Corral in Tombstone, Ariz.
Holiday, who had once defended Earp in a saloon against cowboys who aimed to kill Earp, made his living for about five years as a dentist. He was better known as a gambler and gunfighter.
Wild Bill Hickok
As a frontier lawman, James Butler "Wild Bill" Hickok (1837-76) was famous for his deadly shooting skills.
He came to Kansas from Illinois and by 1859 was a teamster on the Santa Fe Trail. He worked as an Army scout who helped guide Lt. Col. George Armstrong Custer and the 7th Cavalry as they searched for Indians in western Kansas.
He later was sheriff of Ellis County and then marshal of Abilene.
While in Abilene, it is said he spent his term in The Alamo, a bar with nude paintings and plenty of gambling devices to while away his time.
Hickok was shot from behind and killed while playing poker in a Deadwood saloon in the Dakota Territory in 1876.
Mike and John Meagher
During Wichita's roughest and rowdiest moments, Mike and his twin brother, John Meagher, offered the town its first chances at law and order.
When Mike Meagher became city marshal in 1871, one of his first acts was to nail up a sign at Wichita's city limits:
"All persons are hereby forbidden the carrying of firearms or other dangerous weapons within the city limits of Wichita under penalty of fine and imprisonment."
John Meagher served as assistant marshal. He was elected sheriff in the fall of 1871.
Mike Meagher seldom drew his gun. Instead, he stared passers-by into surrendering their weapons, according to newspaper accounts of the day.
— Beccy Tanner, Wichita Eagle
Famous outlaws
Billy the Kid
Henry McCarty, later known as Billy the Kid, arrived in Wichita in 1870 with his mother, Catherine McCarty, and his younger brother, Joe.
He was 11. By the time his family left Wichita a year later, he and his mother had developed reputations — he as "a street urchin" and she as a business leader.
McCarty's mother was one of 124 people who signed a petition on July 21, 1870, that helped incorporate Wichita. The owner of a downtown laundry, she was the only female entrepreneur to sign the document.
Dalton Gang
On Oct. 5, 1892, the Dalton gang made up of the Dalton boys and two other men rode into Coffeyville and simultaneously held up the Condon and First National banks in broad daylight, then attempted to flee with more than $40,000.
When they emerged from the banks, the Daltons were met by a group of townspeople who had recognized them as they rode into town.
The townsfolk opened fire, and at the end of the 12-minute shoot-out, four members of the Dalton gang and four locals had been killed.
The only gang member to survive was Emmett Dalton. Shot and captured, he served 15 years in the Kansas State Penitentiary before being paroled and moving to California. He starred in the movie "The Famous Dalton Raid On Coffeyville" in 1912.
Henry Brown
There was plenty about Henry Brown's past that could be considered unsavory: He rode with Billy the Kid, stole horses and fled New Mexico to avoid murder charges.
But Brown didn't disclose his past to residents of Caldwell looking for a lawman in June 1882.
He was hired as Caldwell's assistant marshal, then promoted to marshal. But in late April 1884, Brown left Caldwell, telling townsfolk he was headed to Oklahoma.
Instead, he rode to Medicine Lodge and robbed a bank and shot the bank president. Brown and his men surrendered two hours later, and were hanged by a vigilante group in Medicine Lodge.
— Beccy Tanner, Wichita Eagle
"The typical cowboy … is a bad man to handle. Armed to the teeth, well mounted, and full of their favorite beverage, the cowboys will dash through the principal streets of a town, yelling. … This they call 'cleaning out a town.'"

— Kansas newspaper, 1882
Sure, Montana, Wyoming and Colorado all have their mountains.
Texas has its big cities and big-name ranches.
But Kansas gave the Old West everything iconic that westerners hold dear:
The boot.
The hat.
The cowgirl.
The Marlboro Man, Matt Dillon, Wyatt Earp, Bat Masterson, Buffalo Bill, Billy the Kid.
Lee jeans.
Sheplers.
And songs.
But while the evolution of the West began from Kansas, it seldom draws the recognition of other states.
"The challenge for Kansas is that we are not the only western state out there," said Jay Price director of the public history program at Wichita State University.
"Texas can be western, New Mexico is western, Arizona, Nevada, Wyoming and Colorado — all these places claim to be western and in some ways pull it off better than we can and are certainly able to market it more," Price said. "We are simply not the only jeans in town when it comes to being western."
Perhaps, after nearly a century and a half, the Old West has become a state of mind.
"Anymore, Kansas seems to be like a border state. When people think of the Old West they think farther west," said David Flask, director of Old Cowtown Museum in Wichita.
But, Flask said, there are people out there who know Kansas was the cradle of the Old West.
"The international tourist knows exactly where we fit," Flask said. "They are big Old West fans and have done their research and know we are the Old West."
Kansans? Not so much.
"The biggest population that we have the hardest time convincing is the people who live here," he said. "For a long time, if you were western, it meant you were backward. The goal was to promote us as a big, modern place with airplanes as opposed to capitalizing on our history."
Talk with enough rural Kansans, though, and chances are the Old West still resonates.
Jim Hoy, director of the Center for Great Plains Studies at Emporia State University, remembers the shock he had the first time he gazed at a map of the Old West and Kansas wasn't included.
"They'd just wiped us out," he said.
Blame Hollywood.
Blame marketing campaigns.
Think about all the old westerns: Dodge City's Matt Dillon in "Gunsmoke" rode with mountains as his backdrop; Kevin Costner's "Dances With Wolves" had Kansas fort names, and even the lead character, Lt. John Dunbar, was a real Kansan, but the movie was filmed in the Dakotas.
And, the Marlboro Man — Wayne Dunafon, from a ranch in northeast Kansas near Wamego and Westmoreland — became an American icon from 1964 to 1978 when he wore a long shearling duster, chaps and a Stetson hat.
"Those icons of the West wouldn't be without Kansas," Hoy said. "There wouldn't be the cowboy, the boot or the hat. The cowboy was born on the dusty Chisholm Trail."
The world is plenty full of faux and wannabe cowboys.
The 1950s and 1960s brought with them TV shows such as "Gunsmoke," "Bat Masterson" and "Wyatt Earp." The 1970s brought in the "Urban Cowboy" look. For some Kansans in their 50s and 60s, that look took a permanent hold, Hoy said.
"There are pockets out there, like in Arizona and Utah, where every CPA and dentist wears a cowboy hat and boots but has never been close to a cow," Hoy said. "But the Flint Hills, Smoky Hills and western cowboys of Kansas don't make a splash.
"They are the real thing."
Making legends
Perhaps no other figure in American history is as romanticized as the cowboy.
Hero. Loner.
He and his trusty horse traversed a handful of trails from Texas to the Kansas prairies with cantankerous Longhorn cattle.
It wasn't until after the Civil War that the East Coast in particular was demanding quality beef. With the advent of railroads, supplying it became easier.
In Kansas, the heyday of the long cattle drives was from the late 1860s to 1887. The first cattle traversed the Chisholm Trail into Kansas in 1867.
The cowtowns that developed — Abilene, Wichita, Caldwell, Newton, Ellsworth and Dodge City — had rough and rowdy reputations.
In these towns, men such as Bat Masterson, Jack Ledford, Mike and John Meagher and Wyatt Earp developed their reputations as gunmen.
But on the prairies, cowboys lived and breathed.
They still do.
The cowboy way
Look almost anywhere in Kansas and the American cowboy is alive and well.
They wear the clothes. Their faces and necks are tanned and weathered, their hands callused and rough.
They may hang out at livestock auctions, the local co-op, Tractor Supply and Orscheln, but more likely than not they are just out there doing their jobs.
John Schmidt of Pawnee Rock was 5 years old when he broke his first horse.
"He was a colt. I was messing around with him, sitting on him, rode him in the creek without a bridle," said Schmidt, now 57. "My folks saw that and decided it was time to break the horse. They brought out a cowboy. He saddled him up and rode him and said 'this horse is already broke.'"
When he was a kid, Schmidt outgrew plenty of cowboy hats and boots.
Five decades later, his wardrobe hasn't changed much.
He wears the hat, the chaps, the spurs and boots with cow manure on the toes and heels. He drives a pickup truck whose front seat is so littered with the tools and medicines he needs to doctor cattle that no other human can fit in.
More often than not that mud-splattered pickup has a livestock trailer connected to it and his favorite horse, J Bar, saddled, waiting inside.
Schmidt farms, but his preference is being a cowboy.
"It's just freedom," he said. "People talk about when you are on the back of a Harley going out and riding as freedom; but for me, freedom comes when you are on the back of your horse and checking cattle. It's early morning and the grass is still damp. It gives you a peace of mind. It's a way of life."
Any cowboy knows, there are different breeds of cowboys.
There are feedyard cowboys — and cowboys that still ride the open range and are rodeo champions in their spare time.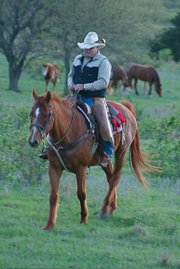 Rodeo champion
By the time he was 6, Randy Peterson was herding cattle from the back of his horse. His daughter started going with him when she was 3.
He's a third-generation Flint Hills cowboy. He runs several thousand cattle on the Buck Creek Ranch near Cottonwood Falls.
This year, Peterson is once again vying to be the world champion in Ranch Rodeo events. His team has qualified the last eight years in a row.
Being a cowboy is what he knows.
"That was just what we did," said Peterson, 45. "The thing about it is you learn to be somebody who is going to get the job done with whatever it takes to do it. When we go doctor a calf, you don't leave until it is doctored. I've seen some people go out and the calves will start running off — and they don't get them. We're not like that.
"There's not enough hours in the day," he said. "I always see these people who live in town, who always seem to got a lot more money than I do. They go to work at 8 and get off at 6. And we are always working from dark to dark. I never did think that part was very fair, but that's life."
On a recent Thursday morning when rain clouds swept over parts of Kansas, Peterson was out moving hay.
He was wearing wet clothes as he talked into his cellphone.
He'd stayed up late the night before baling. His jeans, boots and hat were all drenched.
"I did take my spurs off to haul the hay," he said.
He got the job done.
Singing cowboy
What would the Old West be without music — without Roy Rogers, the Sons of the Pioneers and Gene Autry?
"Tennessee" Jim Farrell grew up in Tennessee, but moved to Kansas. He owns his own recording studio and is the harmony vocalist and rhythm guitarist for the Diamond W Wranglers.
He says the mystique and work ethic of the American cowboy started in the 1860s on the cattle trails to Kansas.
The cowboy way, Farrell said, was and still is all about integrity, doing your job and staying independent.
"It's about doing the right thing when no one is looking, knowing what you are supposed to be doing and sacrificing your time, desires and goals to make it happen," Farrell said. "The true cowboy code has to be that way or nothing would have gotten done."
When the first cowboys traversed the trails, Farrell said, those virtues were quickly branded into their mindset.
"A lot of these kids had never been away from mom. Dad may have been killed in the (Civil) War and the boys had to be the breadwinners," Farrell said.
"They saw that if you worked hard, you could be successful and you could make $50 to $75 when $200 would buy you a house and land. One of the things that freed the cowboy was that he could be on his own, away from society and still be okay."
When he was growing up, Farrell said, he was drawn to the cowboy way first by its music, and then by its simple, philosophical code of conduct.
Every day he wears the clothes, hat and boots of a cowboy.
He believes in the cowboy philosophy and way of life.
"The cowboy way is like a force of nature," he said. "If you have integrity and do the right thing, treat people well and take care of your job to the best of your ability, then that is what I think the cowboy is still admired for."
The Boss of the Plains
Kansas can technically claim the cowboy hat because it was in Kansas territory in 1858 that John B. Stetson made a hat, according to Jim Hoy, director of the Center for Great Plains Studies at Emporia State University.
Stetson was in the gold fields of Colorado — then considered Kansas territory — when he made the wide-brim hat with a waterproof lining and 6-inch crown to protect his head and neck from the elements.
Nicknamed the "Boss of the Plains," the hat protected cowboys from sun and rain, could be used as a water bucket for a horse, a pillow at night and something to shoo the livestock with.
The Boot
"The story is a cowboy had been in Kansas City and stopped at Olathe and asked for a special kind of boot," Hoy said. "Instead of the broad, round toe of the military boot, he wanted a pointed toe and a higher slanted heel."
Bootmaker Charles Hyer fitted him with the Olathe Cow Boy Boot. The pointed toe was designed to slide easily into stirrups. The high shafts protected the legs from brush and scrub.
Lee Jeans
Lee Jeans, the brand started more than a century ago by Salina entrepreneur Henry David Lee, is still a giant in the denim industry.
His intent was to manufacturer work clothes for men. He founded the company and opened his first garment factory in 1889 in Salina.
Lee was among dozens of manufacturers who capitalized on the jeans concept made popular by Levi Strauss & Co. Lee was the first company to make zip-fly jeans, in 1926.
The Marlboro Man
Wayne Dunafon became an American icon through his modeling appearances in Marlboro cigarette advertisements.
Dunafon was born June 15, 1919, in Yuma, Colo. He moved to Russell, Kansas, at age 5 with his parents, attended high school there and worked for several years on ranches in Colorado.
He had a competitive rodeo career, which led him to modeling.
Dunafon appeared in advertisements for Lee Rider jeans, Firestone tires and Chevrolet pickups.
He was the "Marlboro Man" from 1964 to 1978.
The cowgirl
Her name is Willie Mathews and in Caldwell in 1888 she became what historians now believe was the first cowgirl.
She hired on with Samuel Dunn Houston of Clayton, N.M., during the summer of 1888 to drive cattle to Montana.
In Hoy's book, "Cowboys and Kansas" he writes of how Mathews disguised herself as a man before hiring on with Houston.
When Houston discovered that Willie was a lady, he put her on the train home and hired three men to replace her.
The Cowboy's Lament
Texas claims it, but the song "The Streets of Laredo" really belongs to Kansas.
First written by Frank Maynard in 1876, "The Dying Cowboy," wouldn't be published until 1911 in a book called "Rhymes of the Range and Trail."
It was about a gunfight and a dying cowboy that Maynard saw in Dodge City.
"As I rode down by Tom Sherman's bar-room, Tom Sherman's bar-room so early one day ..."
Tom Sherman's bar was one of Dodge City's rowdiest saloons.
— Beccy Tanner, Wichita Eagle
Copyright 2018 The Lawrence Journal-World. All rights reserved. This material may not be published, broadcast, rewritten or redistributed. We strive to uphold our values for every story published.