If you have a covered front porch, installing a porch swing is almost a requirement.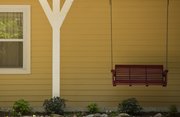 Step 1: Before purchasing a swing, check to see if the porch ceiling and joists are structurally sound enough to tolerate the weight and movement of a swing. If there is any question of structural integrity, call an experienced carpenter to assess the situation.
Step 2: Swings should be hung 3 feet from any structure and approximately 17 inches above the ground to allow for unobstructed and comfortable operation. Locate the ceiling cross beams or joists to assure proper installation is possible. Screwing the swing mounting bolts into a ceiling without hitting a support beam is not an option. Swing hardware should not be mounted into brick, stone or mortar.
Step 3: Purchase a swing that is the proper size for the area it will be installed in. If mounting hardware is not included with the swing, purchase it also. For applications where the top of the mounting beam is accessible, consider using 6-inch machine thread eyebolts, washers and lock nuts to secure the swing, rather than the typical 4-inch screw eyebolts generally included with the mounting hardware.
Step 4: If the swing is made from unfinished wood, lightly sand the slats and apply a weatherproof finish before installation.
Step 5: Measure the width of the swing and add 2 inches. This is the distance apart the mounting eyebolts should be installed into the support beam.
Step 6: Mark the potential screw holes on the support beam and drill appropriately sized pilot holes for the eyebolts.
Step 7: Screw the eyebolts into the support beam, using a screwdriver wedged into the eye to turn the bolts into place. For machine thread eyebolt applications, consider using washers and nuts on both sides of the beam for added security. Tighten the nuts securely with an open end or adjustable wrench.
Step 8: Mount the swing by attaching the mounting chains to the eyebolts. For added comfort, install tightly coiled porch swing springs between the eyebolts and chain.
Step 9: Once the swing has been installed, make sure it is level and adjust the chain length as need to assure proper operation. Use bolt cutters to remove excess chain if excess links appear to be problematic.
Have a seat, lift your feet off the ground and enjoy the relaxing comfort of a properly installed porch swing.
Copyright 2018 The Lawrence Journal-World. All rights reserved. This material may not be published, broadcast, rewritten or redistributed. We strive to uphold our values for every story published.