You never know what you'll find when you visit Funkytown. Perhaps you'll happen upon a parade of giraffes marching through, or a family of rabbits will have taken up residence there. Or maybe, like what happened last summer, a legion of pink astronauts will have descended.
"It's always changing," says Brigid Murphy, who founded Funkytown with her daughter several years ago.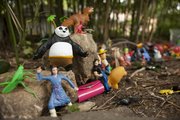 At the most basic level, Funkytown is a trading post for children in the Old West Lawrence neighborhood where Murphy lives. "An ever-changing shrine to cast-off kid toys," she says.
But, as Murphy has discovered, it represents much more.
It began by accident, with a family of panda bears that Murphy's daughter, Aubin, had. They were left outside one night, and in the morning, the bears were gone. In their place were new toys. Aubin and her mother decided to leave the new toys to see what would happen.
What happened was that more people came by, took what was there and left other things. Sometimes a toy. Sometimes a work of art.
Funkytown was born.
"I like that the things you find in Funkytown can be thought of as boring or useless to someone older," says Aubin, who is now 12. "But when a little kid finds it, it becomes a treasure."
Someone who has found a number of treasures is 6-year-old Takoma Lees, who lives next door. "It's cool," he says, adding that he found a fire truck and some action figures.
"It's amazing how briefly kids are interested in these toys," Brigid says.
Although Brigid acknowledges that much of the stuff is "junkie toys" from fast food restaurants, sometimes she is surprised by what appears. Once she found a small box filled with stones, incense and a statue of Buddha.
"I just imagined it was from a young girl going off to college or maybe art school," Brigid says. "She was parting with treasures that she had collected in her youth."
While children are the primary patrons and beneficiaries of Funkytown, Brigid and Aubin have also gained from the endeavor as it provides an opportunity to get to know people in the neighborhood.
"Instead of offering that I live at 746 Indiana," Brigid says, "I say, 'You know Funkytown?'"
They usually do.
"It holds a certain cachet with younger kids," she says.
While Brigid and Aubin enjoy discovering what has appeared at Funkytown, however temporarily, they also enjoy overhearing the exchanges that take place.
"I like the teaching that happens. Parents will say, 'You can't take that because you don't have anything to leave,'" Brigid says.
There are also the parents who always seem to be in a rush, taking little notice of their surroundings.
"They hurry their kids along so they can 'have fun' at a park or zoo," she says. "They are always looking ahead instead of enjoying the moment.
"Funkytown is more than a place," Brigid says. "It's a frame of mind."

Copyright 2018 The Lawrence Journal-World. All rights reserved. This material may not be published, broadcast, rewritten or redistributed. We strive to uphold our values for every story published.