Photo Gallery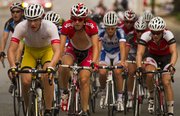 Tour of Lawrence's Lawrence.com KU Campus Race
The Tour of Lawrence moved to the KU campus on Saturday for circuit races. The race was sponsored by lawrence.com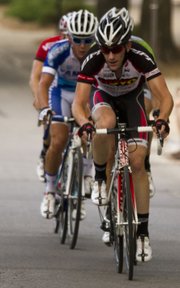 After settling for second place in last year's Tour of Lawrence Kansas University campus circuit race, Lawrence resident Joe Schmalz desperately wanted to seize the title Saturday.
For a majority of the race, it appeared Schmalz, trailing Jonathan Jacob by over a minute with seven laps to go, would fall short for the second straight year.
But thanks to a late charge headed by Elbowz Racing teammates Mat Stephens and Heath Blackgrove, Schmalz worked his way into the lead on the second-to-last lap and held off the field for the victory.
He was quick to point to his riding partners after the race, the second leg of the Tour of Lawrence.
"Heath rode like 10 men today," Schmalz said. "He was keeping me calm every time I'd get excited. Every time we needed to do it, he was there covering stuff. It was brilliant."
The men's professional riders had to complete 14 laps of the 3.93-mile course that started at Budig Hall, weaved through most of campus and finished back at Budig.
Jacob held a big lead for most of the race, but fell off the pace toward the end, leaving the door open for Schmalz and his teammates.
Schmalz grabbed the late lead on a stretch by Memorial Stadium and maintained tempo until the finish.
When riding by the stadium, Schmalz noticed that none of the other riders in the main pack wanted to ride in front. He decided to seize the reins.
"It was a gamble, but it worked out great," Schmalz said.
His family was on hand to enjoy the victory — his mother, father, sister and all his grandparents included.
"It's great to win it for them," Schmalz said.
Gwen Inglis, Lakewood, Colo., won the five-lap women's professional race.
"I think with the heat, everybody knew that they had to conserve enough to have enough to finish the last two laps strong," Inglis said.
Inglis decided to push for the lead on a downhill stretch just before the end of the fourth lap. She held off Lauren Robertson and Carrie Cash Wootten by 28 seconds.
Inglis finished second in last year's race behind teammate Megan Hottman. Since Hottman wasn't racing in this year's event, the title was on Inglis' mind.
"I knew I had to ride strong," Inglis said.
The Tour of Lawrence will wrap up today with the downtown criterium.
The races start at noon and run through the afternoon. The women's professionals will start at 4 p.m., and the men's professionals will cap the event at 6:30.
Copyright 2018 The Lawrence Journal-World. All rights reserved. This material may not be published, broadcast, rewritten or redistributed. We strive to uphold our values for every story published.