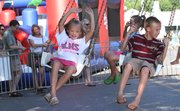 Photo Gallery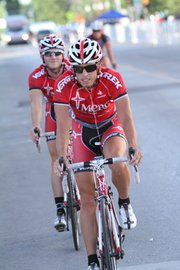 Friday night's Tour of Lawrence
Hundreds turned out in Downtown Lawrence to watch the opening night of the Tour of Lawrence, which included live music and street sprints.
Marc Mondi, of Des Moines, Iowa, was one of hundreds who stood along New Hampshire Street downtown Friday night to take in some national-class cycling at the third annual Tour of Lawrence.
He returned to Lawrence, his hometown, with his girlfriend so they could cheer on a friend.
"I think it's great, blocking out the streets" so people could come out and socialize, he said. "And who doesn't like drinking a beer in the street?"
In addition to the beer, spectators enjoyed live music and children's games.
And, oh yes, it was hot.
"At last check, the temperature was 100 degrees, but you probably knew that already," the public address announcer said at one point. "It was the 30 pounds of water weight you just lost in the past few minutes."
But the heat didn't stop the cyclists from enjoying the event as much as the spectators.
"It's an excellent event. It's national-class," said Nick Kiernan, a cyclist from Euless, Texas, who participated in the races Friday.
He said he particularly enjoyed the street sprints Friday that allowed spectators to see the events up close.
Adam Mills, a cyclist from Lawrence who travels throughout the country, said it was special to play host to a competition like this.
"Any time you can ride your bike to a start line of a high-quality event like this, it's great," he said.
As cyclists whizzed by, Bob Sanner, event director and director of sports markets for the Lawrence Convention and Visitors Bureau, said cyclists were in town from across the U.S. — Minnesota, Texas, Colorado, Illinois and Virginia. He said he was pleased with the way the event had turned out. More than 600 cyclists participated in all.
"Traditionally the Fourth of July has been very slow for hotels and restaurants, and we wanted to change that," Sanner said.
After Friday's speed sprints, cycling continues today with a circuit race on the hills of Kansas University. On Sunday, the action moves back downtown for the Criterium.
Copyright 2018 The Lawrence Journal-World. All rights reserved. This material may not be published, broadcast, rewritten or redistributed. We strive to uphold our values for every story published.