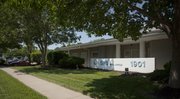 Heart-breaking. Devastating. A nightmare.
Those were just a few words that were used to describe Kansas Department of Social and Rehabilitation Services' decision to close the Lawrence office at 19th and Delaware streets, which has 87 employees.
The workers were notified Friday morning during a conference call that they will be reassigned to neighboring offices based upon service needs.
More on the offices that are closing
Here are more details about the communities where Kansas Social and Rehabilitation Services is closing offices. Lawrence — with 87 employees — is the largest office to close. The population numbers are U.S. Census Bureau 2009 estimates.
• Lawrence: 87 employees. City population: 92,048.
• Fort Scott: 30 employees. City population: 7,938.
• Wellington: 18 employees. City population: 7,677.
• McPherson: 17 employees. City population: 13,323.
• Coffeyville: 16 employees. City population: 10,244.
• Pratt: 13 employees. City population: 6,315.
• Marysville: 12 employees. City population: 3,105.
• Lyndon: 10 employees. City population: 998.
• Garnett: 5 employees. City population: 3,163.
The closure is expected to occur within three months, said Rachel Whitten, SRS public information officer.
SRS provides a variety of services for low-income children and families, as well as for people with disabilities. For example, it administers the food stamp program and provides child protection services.
These clients value the office because they can drop off paperwork in a timely manner and get face-to-face time with SRS employees.
Once the office closes, they are expected to use online and phone services or drive to another center. The closest are in Overland Park, Topeka and Ottawa.
District Attorney Charles Branson said his office and law enforcement in Douglas County work closely with SRS on a variety of cases, especially child-in-need-of-care, juvenile offender, sexual abuse and child abuse cases.
He said law enforcement investigations rely on SRS a great deal to be able to identify children and vulnerable adults in need who have been victimized and bring their abusers to court.
"Without a local presence of SRS in the fifth-largest jurisdiction in the state, I think the health, safety and welfare of people in Douglas County are going to be greatly affected by this. Instead of a reduction in force, this is a flat-out amputation, and I have to question why it happened to Lawrence and Douglas County," Branson said.
SRS did not respond Friday to a request for the number of SRS caseloads at the Lawrence office as well as the other offices being closed, or how Douglas County's caseload compared with other offices across the state.
Statewide closures, restructuring
SRS is restructuring its offices statewide, a process that will include merging six regions into four, and a closure of nine service centers, according to a press release sent Friday upon request of the Journal-World.
Others offices being closed are in Coffeyville, Fort Scott, Garnett, Lyndon, Marysville, McPherson, Pratt and Wellington.
Among the considerations for selecting offices for closure, the release said, were caseload size and proximity to other SRS offices.
When asked why Lawrence, which has such a large population, Whitten emphasized the proximity to other SRS offices and added, "It was a very detailed process that was thought out and researched and examined, and we have definitely ensured that the people in Lawrence who are served by that service center will not have an interruption in services and their cases will be handled efficiently and professionally."
Budget cuts
The 2011 Legislature directed SRS to cut $42 million from its all-funds budget, including $1 million in administration costs for fiscal year 2012. To meet that reduction in administration, the agency is also reducing cell phone use and other expenses, and looking for ways to find additional efficiencies.
"The Legislature told us to find savings, and we have identified a way to achieve those savings while still providing exemplary services to our beneficiaries," said SRS Secretary Rob Siedlecki.
When House Democratic leader Paul Davis, D-Lawrence, heard the news Friday, he was floored.
Just four weeks ago, Davis said, Siedlecki invited him and a few other local representatives to tour the Lawrence office. Siedlecki praised the office for its work and never uttered a word about the possibility it would be closed.
Davis said he can't believe that Douglas County has been affected by the cutbacks when there are offices serving communities with fewer than 5,000 people being left open.
"I am becoming increasingly convinced that the vulnerable Kansans who rely upon some assistance from the state during tough economic times are not a top priority for the Brownback administration," he said.
Davis also criticized the timing of the announcement.
"Announcing the closure of these offices on the Friday before a holiday weekend is yet another cowardly move by this administration."
Ripple effect in community
Loring Henderson, director of the Lawrence Community Shelter, called it a "terrible blow." The shelter has about 150 active clients, and, of those, about 80 percent use SRS services for items like food stamps and vocational rehabilitation.
He said these people can't afford shelter let alone gasoline money to get food stamp applications in area cities. He also doesn't expect that they will be able to navigate a complex SRS system through the Internet.
So, how will they access services?
"They will be coming to us and asking for help. We and other agencies and case managers will end up having to help them get transportation to these places and then we will have to be coming to the community at large and asking for more donations to underwrite our transportation programs. So, it's a vicious circle."
Other agencies like Bert Nash Community Mental Health Center and Independence Inc. are concerned about the impact on their clients.
Stacey Hunter Schwartz, executive director of Independence Inc., said often their clients need paperwork filed right away and they are able to send them around the corner to SRS.
"A lot of people are in such a state of crisis that when they need it, it isn't like they can wait a few days and hear by mail. That's a common scenario," she said.
A Lawrence resident who has loved ones who depend on SRS services for everyday life was upset on Friday.
"It just sounds like a nightmare. I was just shocked when I learned it was closing," said the woman, who didn't want to be identified. "There's going to be higher frustration, lack of services, lack of coordination of services."
She has an elderly mother and son with neurological developmental issues who access SRS services. She is the person who handles all of their paperwork and often goes to the Lawrence office for help or to drop off needed paperwork.
"How am I going to be able to resolve situations through a computer system, where I will not have documentation that the items have been received and are accessible, and known to the people who are processing them?" she asked.
She also doesn't have the time or money to drive to area offices. Taking care of her son is more than a full-time job.
"There will be a tremendous stress on whatever transportation issue there is," she said.
Future SRS services
In the release, SRS said beneficiaries served by the affected offices will see no disruption in services. As staff and casework is reassigned, customers will be notified of how and where to contact their assigned caseworkers.
Beneficiaries may contact any SRS office to inquire about services, can apply for services online at www.srs.ks.gov, and, in many cases, can contact their caseworker or manage services over the phone or online, the SRS release said.
The release further noted: All communities in which offices will be closed have public libraries that provide Internet access to the public. SRS also maintains Access Points, where people can receive informational materials and traditional hard copy applications for assistance. In Lawrence, the Access Points are:
• Community Health Facility, 200 Maine.
• Lawrence Public Library, 707 Vt.
• Lawrence Workforce Center, 2540 S. Iowa, Suite R.
• Health Care Access, 330 Maine.
• United Way Center for Human Services, 2518 Ridge Court, Suite 200.
Copyright 2014 The Lawrence Journal-World. All rights reserved. This material may not be published, broadcast, rewritten or redistributed. We strive to uphold our values for every story published.