With all of the coverage of new spring fashion trends, it is hard to wait for more stores to start stocking their shelves with warm-weather apparel. Luckily, a few trends for spring 2011 are completely wearable in the wintertime, even while snow still covers the ground.
Bike/motorcycle fashion :
Although motorcycle jackets have been popular fashion items for many years, this spring we will see an even stronger push toward bike-inspired fashion styles — stylish versions of moto-jackets, pants and boots. And I must say, motorcycle-style apparel provides a nice change of pace, a fresh substitution for the strongly emphasized military-inspired clothing and jackets of last season.
Jackets: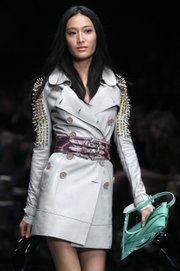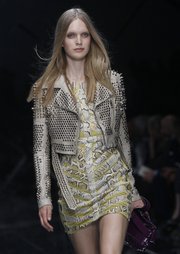 Although the classic black motorcycle jacket is in style this spring, designers have also created more colorful, spring-like versions in brighter colors or metallic silvers. Burberry's Spring-Summer 2011 collection even includes a two-toned moto-trench coat. So when you are shopping for your jacket, do consider a more nontraditional color; however, be sure that whatever MC Jacket you select includes two essential elements — sleeves with zippers at the cuffs and detailed, quilted stitching in the body or sleeves. These aspects will place your jacket among other on-trend, modern motorcycle jackets.
Leather pants:
Leather leggings, pants and jeggings were semi-popular and available in 2010, but if you want to wear leather pants in 2011, you'll have to step it up a notch. Instead of plain, sleek leather pants, opt for versions with more detail. Exposed front zippers and fabric panels stitched on the sides of the legs and knees are all subtle updates. With these additions, you will gain a more interesting texture or an additional color.
Boots:
Motorcycle boots can be easily found, but finding a high-quality pair of boots in your price range can be tricky. Again, when you are shopping for motorcycle-inspired clothing, pay attention to the details. Look for a pair of boots with sharp stitching, strong soles, durable uppers and distinct closures. Clasps and closures on this season's trendy motorcycle boots are typically zippers or buckles, not laces.
One last note…
Like most in-style fashion items, mixing and matching wardrobe pieces and accessories from other trends is the best way to integrate the bike/motorcycle-inspired style into your own daily outfits. So, instead of dressing head-to-toe in leather, think about contrasting your clothing pieces to create an interesting juxtaposition. Wear a motorcycle jacket with a girl dress, or pair leather bike pants with a soft, feminine blouse.
Check out the best motorcycle style look up Burberry's Heritage Biker Collection Spring/Summer 2011.
Copyright 2018 The Lawrence Journal-World. All rights reserved. This material may not be published, broadcast, rewritten or redistributed. We strive to uphold our values for every story published.