Photo Gallery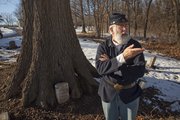 Documenting the Civil War
Bob Wandel, 64, has been working to document Civil War soldiers' graves in Oak Hill Cemetery. He's found about 600 soldiers to date.
Get involved
Wandel says the Sons of Union Veterans is always open to new members. The group meets at 6:30 p.m. the third Thursday of every month at the Watkins Community Museum of History, 1047 Mass.
The group always looks for stories related to the Civil War veterans he's searching for. Wandel says the group also needs donations to pay for flags to put on the growing number of veterans' graves for Memorial Day.
To join the group, donate or get any other information, contact Wandel at wandel@sunflower.com or at 843-2385.
Bob Wandel is often a lone figure wandering around Oak Hill Cemetery. He sometimes recognizes other people when he's out there, people who are walking their dogs or going for a run. But no one is doing what he's doing — remembering, many times a week, the people who are buried there, and searching for those who have done great things.
Wandel, 64, is a member of the Sons of Union Veterans, and for six years he's been trying to track down Civil War veterans who are buried in Oak Hill, 1605 Oak Hill Ave. So far his search has yielded about 600 former soldiers, but he knows there are more to find, and some he might never discover.
"I will never know if it's complete, and I will never know that it's exactly accurate, because the Smiths and Joneses and spelling names and everything else, it's kind of hard to figure out," he said.
Wandel's interest in the Civil War started as a child in Pennsylvania, when he would play Civil War games. Years later, his sister was cleaning out their mother's house and was about to throw away some old photographs. Wandel took the photos and brought them back to Kansas, and in the process discovered some of his ancestors had fought in the Civil War. One died and was buried in Gettysburg, another lost an arm in the Siege of Petersburg.
"I kind of got interested in that and got involved in the Sons of Union Veterans," he said.
Detailed project
Wandel, a former civil engineer with the state, later began his grave-mapping project. The first step, and the easiest, was finding the traditional Civil War veterans' graves, marked with headstones with shields on them. Wandel, who is also a member of a Civil War re-enactment group, traveled around to neighboring counties to map those types of graves.
Then the intense work started. He gathered lists of names — he now has about 12 different lists — that show the names of soldiers who could possibly be buried in Lawrence and who had graves that weren't marked by the traditional headstone. There's the cemetery's registry, the roster of the Grand Army of the Republic (GAR), militia rosters, census records, newspaper articles, pension records and many others. The collection of names never seems to stop.
"Every time I come up with it, I keep getting more and more," he said. "I'm finding lists all the time."
Wandel keeps a map of the cemetery marked with all the Civil War veterans, and with that a photo album full of every veterans' gravestone so he can find them easily.
Many of the soldiers are concentrated in a few sections of the cemetery. Section 7 has a large grouping of soldiers from the GAR. Section 9 has a grouping of black Civil War veterans. Many others are spread around the other sections, and a large number were not originally soldiers for Kansas.
"Not all of them died in the war but they came here to live after the war," he said. "At one time, Kansas was called the soldier state, the reason being that after the Civil War there was free land or relatively cheap land out here, so you had a land rush."
Keeping history alive
And behind each tombstone, there's a history. Some died from wounds suffered during the war. Some lived on for many years after. Some were surveyors, and some became hermits.
"There's always a story behind it," Wandel said.
But many of those stories have been lost, and Wandel hopes his project will bring out more of those stories.
"These individuals, their families are pretty much all gone," he said. "I'd like to see them preserved. We'd like to see young people come into the group so that they can also keep track of these things."
On Memorial Day, the Sons of Union Veterans group works with Cub Scouts to put flags on all the veterans' graves.
For those veterans whose burial sites are either missing a headstone or have one that's broken, Wandel will order a new one from the Department of Veteran Affairs. Some stones have sunk into the ground, and Wandel will work to raise them up and reset them. For others, he has used a solution to clean off the green moss growing, obscuring the names of those who fought for the Union. Many stones are so weatherized that the names are starting to disappear.
"There are some that you can't hardly read," he said.
Wandel plans to keep working on his project although he knows he'll eventually quit. He says he might not ever finish because the records are incomplete. For now, he plans to keep collecting the burial sites and the stories that go with them.
"Kansas has a great history and we like to play up on that," he said.
Copyright 2018 The Lawrence Journal-World. All rights reserved. This material may not be published, broadcast, rewritten or redistributed. We strive to uphold our values for every story published.