Finishing as the runner-up doesn't garner any trophies or accolades, but Free State High's girls basketball team handled it in stride.
Photo Gallery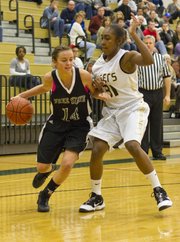 Free State girls vs. Blue Valley
The Firebirds fell, 60-45, to Blue Valley in the final game of the Firebird Winter Classic on Saturday at FSHS, but had few complaints with their tournament run.
"We don't want to call it a great weekend, because we didn't win the thing," coach Bryan Duncan said. "But it was a very good weekend."
With five players at or around 6-feet tall, the Tigers (9-3) were simply too much for the Firebirds to handle.
The physical, experienced Tigers gathered nine offensive rebounds, many leading to put-back layups or earning them trips to the free-throw line.
Both teams shot the ball at an 18-for-43 clip, but the Tigers continued to draw fouls and get to the line, where they were 20-of-28.
By comparison, the Firebirds were only 4-of-6 from the stripe.
While their teammates got good looks at the basket inside, Bailey Geiman and Rylie Hanson were able to knock down perimeter jumpers, seemingly whenever the Firebirds threatened to make a run.
"They present a really difficult challenge for everybody," Duncan said. "They're big so they can score inside, but if you double-down on them too much, they also have people who can shoot the ball."
FSHS, led by nine points from Abbey Casady, trailed by only five points at the half. But Blue Valley extended its lead to 10 in the third quarter, then spent the fourth quarter working the clock and continuing to draw fouls.
Kennedy Kirkpatrick and Alexa Gaumer each chipped in eight points for the Firebirds (7-6), and Chelsea Casady added seven points and five rebounds.
Neither Duncan nor his players offered excuses, but as the game wore on the Firebirds clearly looked a bit worn out after two demanding victories in the previous two nights.
Lynn Robinson managed to score four points, despite playing her third game while suffering from flulike symptoms.
"It is a challenge," Gaumer said. "But I thought we all fought pretty well. We always show heart and try to work as hard as we can, but obviously we were just outsized tonight."
Copyright 2018 The Lawrence Journal-World. All rights reserved. This material may not be published, broadcast, rewritten or redistributed. We strive to uphold our values for every story published.