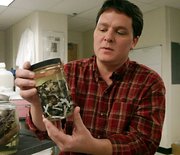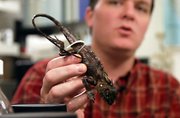 Collection by the numbers
2 — number of floors of herpetology specimens
4 — rank in the world of the size of KU's collection
60 — number of specimens that were collected prior to 1900
65 — temperature of the rooms where the specimens are stored
70 — percent of ethanol in the solution used to store specimens
550 — about the number of holotypes the museum has, which are the original specimens to which a scientific name was given
1880 — the year the oldest specimen collected by someone associated with the KU collection was found
330,000 — amphibian and reptile specimens in the KU collection
Tucked inside one of the oldest buildings on Kansas University's campus lies something that is even older than the walls that surround it.
Coiled in a jar filled with an ethanol solution is a Thamnophis elegans, a snake collected by a KU researcher in New Mexico. That winding mass of scales is almost 131 years old — it was collected in 1880.
Dyche Hall houses the KU Biodiversity Institute, and with that the fourth-largest collection of amphibians and reptiles in the world. Any herpetologist who is researching amphibians and reptiles is likely to pass through the doors of the Natural History Museum and visit the collection, which has about 330,000 specimens.
Having that many specimens, though, can prove a problem. Thousands of jars are filled with roughly 9,000 gallons of a 70 percent ethanol solution, which preserves the amphibians and reptiles. Those jars are arranged by family, and misplacing a single jar can result in losing it for years.
"It's sort of like the last scene in the 'Raiders of the Lost Ark' in here. If you put something on the wrong shelf and leave it there, it will be lost forever until someone goes through that shelf by hand and tries to find it," said Rafe Brown, curator for herpetology at the Biodiversity Institute. "One of the biggest problems we have managing all these specimens is making sure they don't get misplaced. If they get misplaced one shelf over, we'll never find it."
Brown spends about three months per year traveling to add to this collection, which is kept at a constant temperature of 65 degrees. He goes most often to the Philippines, a country with severe conservation threat but high biodiversity.
Brown, his collaborators and his students have added about 16,000 specimens to the collection in five years, but that doesn't come without a price.
In order to study the specimens, they must kill them, which is done with a barbiturate solution. Brown knows this is unpopular with some, and says he's sympathetic to those who think people should never kill an animal.
"What we're trying to do is preserve species for the future history of the earth and for future generations of people as well, so when a couple of individuals have to die so that a whole species can be recognized, it's a tradeoff I'm willing to make," he said.
The value of the collection was recently discovered when a few jars of toads were examined. The mountain river toads were collected about 30 years ago and then placed in the collection. Since the collection, the species has gone extinct because of a fungus.
A researcher recently named five new species within those jars post-extinction, species the world never would have known existed if the specimens hadn't been collected.
Discoveries like that are being added to the collection every month, and Brown said he has about 60 species he found in the Philippines yet to name. He said he can walk around the collection and see species he's not familiar with every day, and part of his job is to keep those in good condition for generations to come.
"If they're properly preserved and taken care of, that means keep them in the dark and keep them in the right concentration of ethanol, they'll last forever," he said.
Copyright 2018 The Lawrence Journal-World. All rights reserved. This material may not be published, broadcast, rewritten or redistributed. We strive to uphold our values for every story published.