Photo Gallery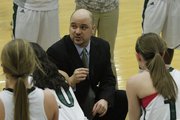 Free State girls vs. Shawnee Heights
The Free State girls defeated Shawnee Heights, 57-55 in overtime, on Jan. 28, 2011.
Typically it's the coach who serves as a guiding force for his team, steadying it amid even the toughest of situations.
But Friday night, after a Shawnee Heights' buzzer-beating shot sent the game into overtime, it was Free State High girls basketball coach Bryan Duncan who was perhaps most distraught.
"When our kids came over, it lifted me right back up," Duncan said. "I could tell just by the looks in their eyes that we were going to win the game. It's a funny feeling, but I think they lifted me up at that time."
The youthful Firebirds showed veteran poise late, withstanding a furious second-half rally by Heights to escape with a 57-55 OT victory in the semifinals of the Firebird Winter Classic at FSHS.
"We played so well for the whole game, and to see something like that happen is tough," Duncan said. "But to see the resiliency of the kids was unbelievable, and I couldn't be more proud."
The Firebirds took a 31-20 lead to the half, but as the third quarter began, it was apparent the game was by no means over.
Led by Grambling State commit Cierra Cezar's 18 second-half points, the Thunderbirds continually chipped away at the Firebird lead.
A layup from Cezar, who finished with 22 points and eight rebounds, finally tied the game at 50 with just under a minute to play.
Kennedy Kirkpatrick's two late free throws gave FSHS the win on Thursday, and with just over 10 seconds remaining in Friday's game, it looked as though the game might once again be in her hands.
But with two Heights defenders draped on Kirkpatrick — who led the Firebirds with 20 points, eight rebounds and five assists — FSHS opted for a different route.
Chelsea Casady inbounded the ball to Scout Wiebe, who passed it back to a cutting Casady for a wide-open layup with only 3.6 second remaining.
Casady, who was fouled on the play, missed the free throw, though, giving the Thunderbirds a chance to call timeout and set a play with 1.5 seconds left.
The Thunderbirds called on the red-hot Cezar, who caught the inbounds pass and took one dribble before rising and sinking a 15-footer from the baseline, which just barely beat the horn. The Heights players rushed the bench to swarm Cezar, their fans roaring loudly and stomping on the bleachers behind them.
"As soon as I saw that shot, my heart sank," Duncan said.
His team, on the other hand, paid little mind to any swing in momentum.
"We were like, we need this," Casady said. "So we just came out like we did at the beginning of the game. It was just a new quarter for us."
Casady, who finished with 13 points, 10 rebounds and four steals, hit two more big shots in overtime, where both teams scrapped and fought for every loose ball.
More importantly, though, Casady snared three crucial offensive rebounds in OT to allow the Firebirds, who also got 11 points from an ailing Lynn Robinson, to pull ahead 57-55 with under 10 seconds to play.
"Chelsea was a monster today," Duncan said.
There were more no heroics from Cezar, nor from Danielle Poblarp — who misfired a three-point attempt at the buzzer — allowing Duncan to exhale finally and the Firebirds to celebrate.
"Boy, did we grow up tonight," Duncan said, citing Free State's 51-35 loss to Heights earlier this year. "We played like a great basketball team."
The Firebirds (7-5), now looking for back-to-back Winter Classic titles — albeit with an almost entirely different roster — will face Blue Valley in the finals at 2:30 p.m. today.
"On paper, you'd have to say it wasn't a likely situation," Duncan said. "But gosh, it just shows the pride these kids have and what they're willing to do and willing to fight for.
"And if they play like that, we're going to be awfully good."
Box score
Free State 57, Shawnee Heights 55
SHAWNEE HEIGHTS (55)
Cierra Cezar 10-22 2-2 22, Erin Maxwell 3-6 2-2 8, Cassidy Downing 3-11 2-2 8, Kelsey Morgan 0-4 0-0 0, Sheylon Ryce 2-5 3-6 8, Danielle Poblarp 2-7 3-5 9, Hallie Williams 0-0 0-0 0, Rheanna Pierce 0-1 0-0 0. Totals: 20- 56 12-17 55
FREE STATE (57)
Abbey Casady 1-3 0-0 2, Jackie Garcia 2-5 1-2 5, Kennedy Kirkpatrick 7-15 2-4 20, Lynn Robinson 4-10 3-4 11, Chelsea Casady 6-13 1-7 13, A'Liyah Rogers 1-2 0-0 2, Alexa Gaumer 0-0 0-0 0, Scout Wiebe 2-5 0-0 4, Courtney Hoag 0-0 0-0 0. Totals: 23-53 7-17 57
Shawnee Heights 12 8 12 20 3 — 55
Free State 17 14 6 15 5 — 57
Three-point goals: Shawnee Heights 3-17 (Poblarp 2, Ryce); Free State 4-15 (Kirkpatrick 4). Shooting: Shawnee Heights 20-56 (35.7 percent); Free State (43 percent). Fouled out: Free State — A. Casady. Turnovers: Shawnee Heights 14, Free State 16.
Copyright 2018 The Lawrence Journal-World. All rights reserved. This material may not be published, broadcast, rewritten or redistributed. We strive to uphold our values for every story published.